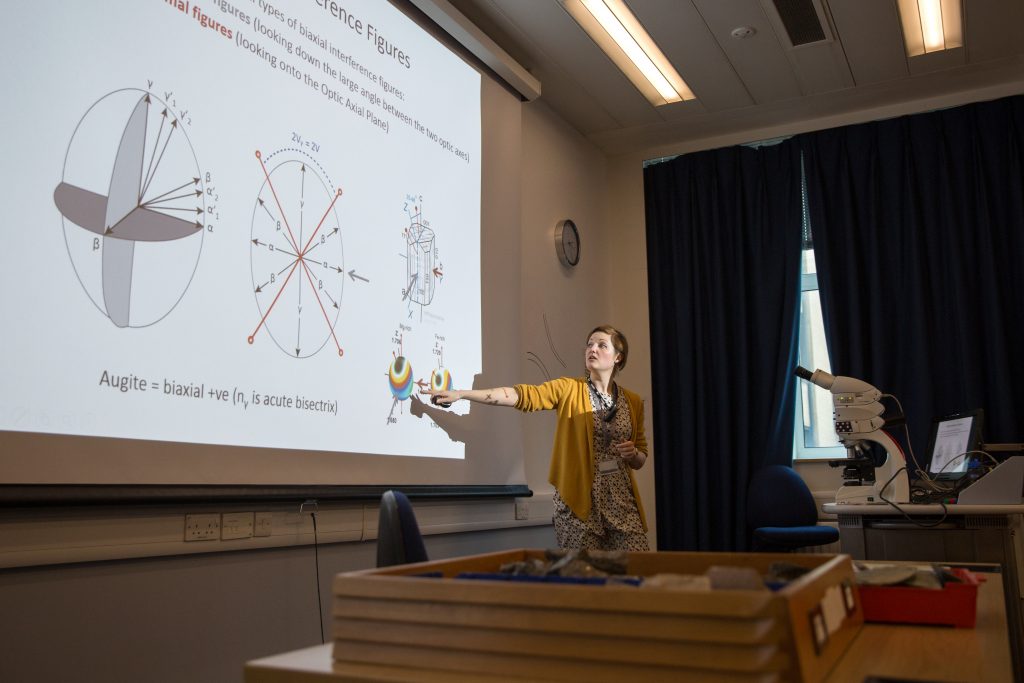 "I'm a geologist by training: I have a MSci in Geology from UCL and a PhD in Geochemistry from the University of Edinburgh, and have specialised in the study and teaching of igneous processes.
I have collected lava in the drizzle in Iceland, and analysed volcanic gases in the sunshine in Hawaii. I've curated a geology collection, where I designed public exhibitions, and been a Research Fellow at the British Museum, where I analysed ancient sculptures and gemstones.
I jumped at the chance of becoming a Senior Teaching Fellow in Earth Science and Engineering in 2012; it was as if the job had been made for me. Although I have enjoyed being a researcher, I love being a teacher. I teach lab-based practical classes in rock and mineral identification, and igneous processes, and I also teach in the field. One of the highlights of my academic year is seeing students put their learning in to practice during fieldwork in Spain; it all just clicks into place. I'm currently completing my MEd in University Learning and Teaching, exploring the impact that fieldwork has on identify formation for undergraduate students. I'm also interested in how technology can be used to assist learning, and am creating a portfolio of instructional videos for microscope teaching. I'm thrilled that my work has recently received formal recognition in the form of two teaching awards, the Routledge prize for my PG Diploma dissertation, and Senior Fellowship of the HEA.
I've recently returned to work after my second stretch of maternity leave. I'm really missing my one-year-old son and three-year-old daughter (they're such good fun!), but I've also genuinely missed the students, and my colleagues. I'm lucky to work with a great team, and am embracing my new role as Senior Tutor".