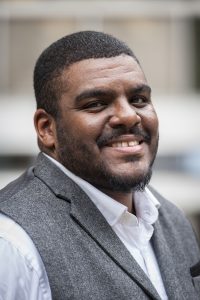 "My role as a CATO Coordinator allows me to be the main point of contact for clinical academic trainees and researchers (medical) for advice and information on academic careers, recruitment, training and funding.
It's very rewarding to know that I contribute to the pathway that doctors take in order to continue their medical training programmes in a broad range of clinical specialties whilst simultaneously learning to carry out research alongside internationally renowned clinicians.
In terms of my own career progression, it was a great feat and an honour to be a part of this year's IMPACT programme*. When I applied for IMPACT, I was intrigued by the management and leadership skills I would gain. At the beginning, I didn't have much self-belief but now, my confidence has sky-rocketed.
I'm seeing everything in a different light and I feel better equipped to take the next step in my career."
*IMPACT, which stands for Imperial Positive About Cultural Talent, is a four-month talent development programme run by the Equality, Diversity and Inclusion Centre. It supports BAME staff by giving them the tools and confidence to advance their career through highly-tailored workshops, one-to-one mentoring, and networking opportunities