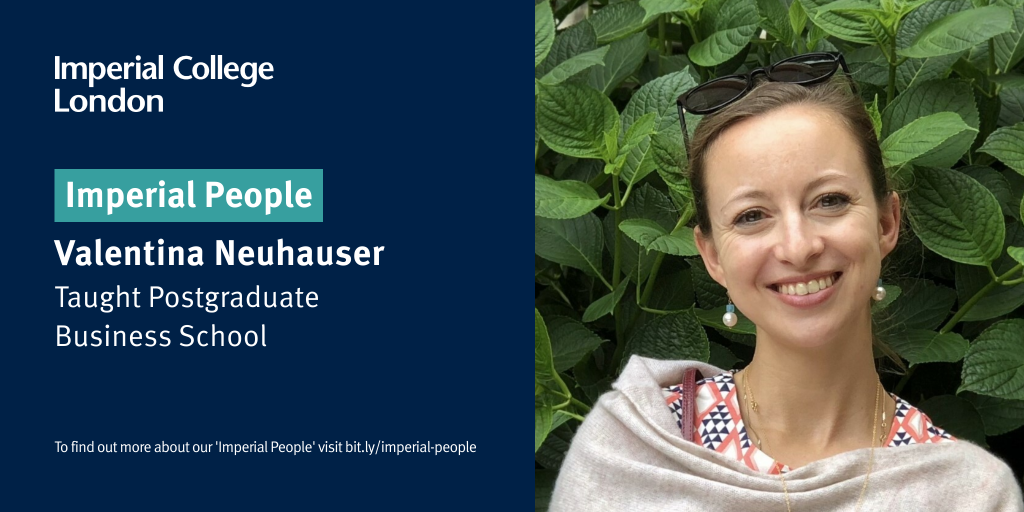 "My curiosity about how businesses raise the bar for sustainable development and offer hope for our future brought me to Imperial"
Growing up in Austria, I treasured the beautiful nature around me and the memories of running through beautiful fields of wildflowers as a child. Unfortunately, over the years, I saw many places in my fond memory disappear, making places for business and buildings and stimulating the consumption of more goods.
In 2021 I decided that it was time to embark on a long envisioned educational journey – to pursue an MBA. My curiosity about how businesses raise the bar for sustainable development and offer hope for our future brought me to Imperial. I had worked in tech for 15 years, and I had many opportunities to grow and take on new challenges over the years. However, I was keen to expand my horizons and learn about other industries. Imperial offered me the opportunity to continue my job while studying with a vast international cohort – and to do this online from Singapore, where I am currently based. Imperial's Grantham Institute – Climate Change and the Environment also attracted me, alongside the focus on programmes' sustainable and ethical business approach.
Climate change, the exploitation of virgin resources, and the lack of a circular economy threaten our lives, those of future generations, the planet and animals, and our economy. Businesses seek know-how to set solid green agendas for the future, and we must ensure that students are ready for these "new" requirements. I recently connected with a variety of groups at Imperial organised to advocate on the climate emergency and to raise awareness. I am optimistic that we will have a positive influence if we use the power of our network to effect change.
I have always been active in my community, and getting involved is the best way to shape your experience. As a new MBA student, I took on a student leadership role for my cohort as Student Staff Committee Chair. This role has allowed me to work with the programme team on the MBA, and explore the Vice President for Sustainability role on the Dean's Student Advisory Committee. In this role, I connect and work with stakeholders across the College to bring sustainability initiatives to students. It also offers the chance to address challenges and opportunities with the Business School on sustainability, while creating a programme that allows students to gain essential skills for the workplace.
It is no surprise that I am passionate about nature, and in my little spare time between work, studies, and student life, I love to be outdoors, hike, do yoga in nature, and marvel at the fantastic wonders on this planet. In addition, I love classical music, and my passion for classical ballet is my best way to re-energise after a busy week.