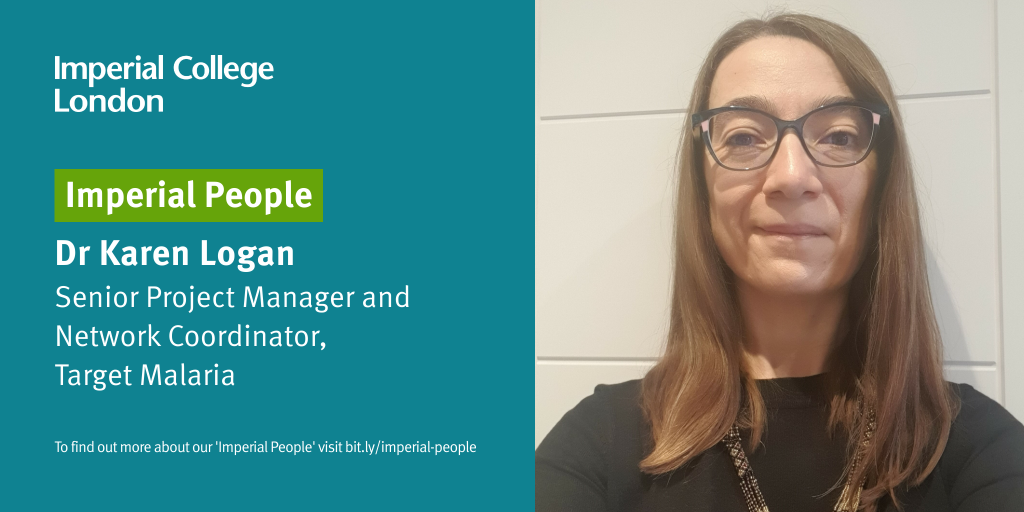 "I look forward to the day when malaria is eradicated, and I can say we helped contribute to that!"
I'm an immunologist by training, with my early career focused on vaccine development. When I shifted away from the bench into project management, I wasn't really sure I liked it, but over 20 years later I realise I've found my place.
In the most basic terms, being a project manager means ensuring your team delivers what they said they would deliver, when they said they would deliver it, and it costs what they said it would cost. You have a unique view of a project as you get to see all aspects, but it isn't for everyone – I've heard it described as "herding cats", but I love it.
I joined Imperial in 2012 as the Senior Project Manager for Target Malaria, working with Professor Austin Burt. Our approach is malaria control by mosquito control. The project's goal is to develop a new tool by genetically modifying the malaria transmitting anopheline mosquitoes which transmit the disease. As it is a novel technology, from the science to regulatory and stakeholder engagement, every day is a school day.
We have grown a lot since I started, with a project team of now over 200, and we are now working in collaboration with eleven institutions in Africa, the US and Europe. With connections and relationships built up over ten years it feels more like family.
I count myself very fortunate to be part of a team whose vision is a world free of malaria – it certainly motivates you to get out of bed in the morning. I look forward to the day when malaria is eradicated, and I can say we helped contribute to that!
Outside of work I am a keen cyclist, swimmer, horse rider, yogi and hill walker (well, I am Scottish!). I've been a volunteer with Riding for the Disabled for over 25 years. In 2019 I gained my Riding for the Disabled coaching certificate which I am super proud of. To see my riders get off with big smiles on their faces, or bury their faces in a pony's neck, lifts the soul – there is nothing better.