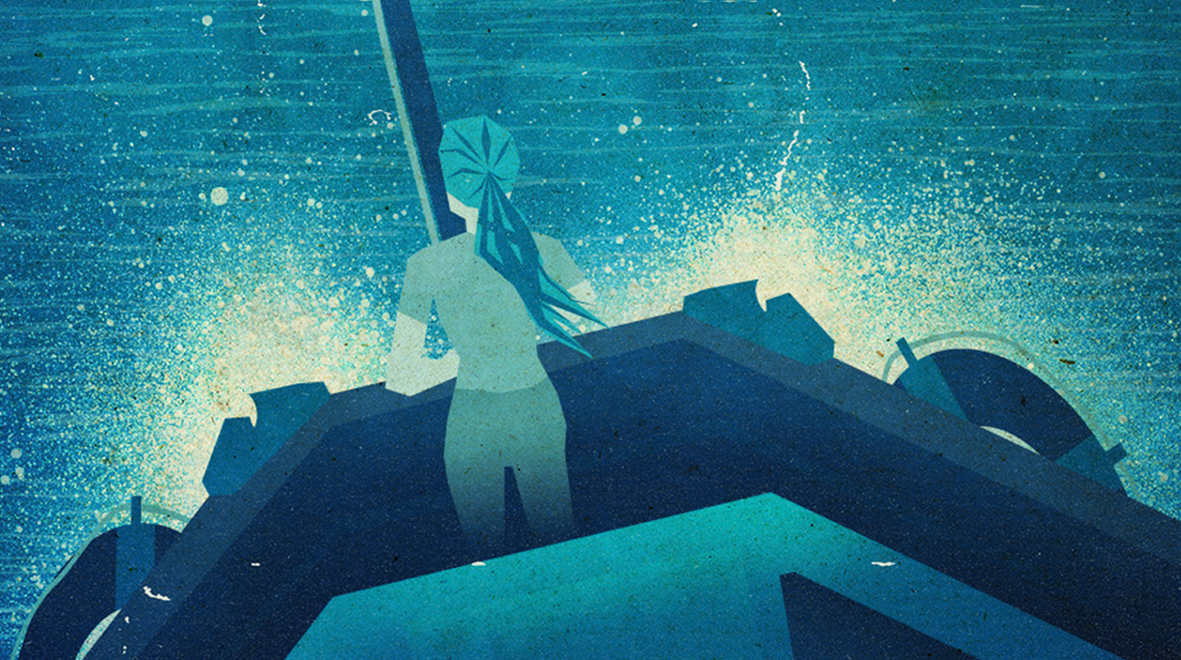 Rebecca Blaylock is a student on the Master of Public Health programme at Imperial and here makes the case for increased access to reproductive healthcare.
---
Students from Imperial's Master of Public Health programme recently organised a screening of the award-winning film "Vessel". Vessel chronicles the story of Dr Rebecca Gomperts – a former doctor on a Greenpeace ship – who had an innovative idea to provide women with vital reproductive health services. During her time travelling the world with Greenpeace, Gomperts witnessed the unbearable suffering caused by unsafe abortions. She saw women haemorrhage to death, die from sepsis and sustain life-long disabilities, and refused to "stand there and just let that happen". Around 25 million unsafe abortions take place every year, accounting for between 4.7 and 13.2% of global maternal deaths.
Gomperts founded Women on Waves, and took her abortion clinic (built inside a ship's container) and anchored 12 miles off the coast of countries where abortion is illegal or severely restricted. Here, Women on Waves legally provided abortions for women who desperately needed them.
The film shows the power of what a handful of individuals can achieve at the interface of medicine, activism and art. Women on Waves challenges conventional thinking and employs adventurous tactics – instead of waiting for laws and policy to change, Gomperts puts the means of accessing a safe abortion directly in the hands of women.
Repeal the 8th amendment
The screening was timely – on 25 May 2018 The Republic of Ireland will vote in a referendum to repeal the 8th amendment of the Irish constitution and make abortion available up until 12 weeks of pregnancy. Claire Lynch of London-Irish Abortion Rights Campaign, a London based collective of first and second generation immigrants and allies, gave an opening speech which described the lived realities for women in Ireland and provided an overview of the road to the upcoming referendum.
Article 40.3.3, known as the Eighth Amendment, was voted into the Irish Constitution by referendum in 1983. The amendment states: 'The state acknowledges the right to life of the unborn and, with due regard to the equal right to life of the mother, guarantees in its laws to respect, and as far as practicable, by its laws to defend and vindicate that right.' In reality, this means that women and girls cannot access an abortion unless there is a threat to their life. Those who have an unwanted pregnancy, have been raped and abused, have fatal foetal abnormalities, and anyone whose life is not in immediate danger, cannot have an abortion.
Estimates for the number of illegal abortions in Ireland are uncertain. It is thought that an increasing number of women order the 'abortion pill' (actually two drugs, mifepristone and misoprostol) online, risking up to 14 years imprisonment. Those with money and documentation can travel abroad for care, and it is estimated that 10 women a day travel from Ireland to England and Wales, where they can pay for an abortion. Since 1980, 150,000 women have traveled overseas. It is not known how many women and girls remain in Ireland with no option but to continue with a pregnancy. We do know that they are likely to be poor, marginalised, without a passport, and it has been reported that women seeking abortion are up to three times more likely to have experienced domestic violence or sexual assault than those who continue with pregnancy. This may impact their ability to travel for care.
Global health and choice
Access to free, safe and legal abortion is a cornerstone of good reproductive healthcare. Our gaze has long been directed towards the developing world, as if avoidable maternal deaths, draconian laws, and human rights violations are something that happen 'elsewhere'. So much so, that many of us are not fully aware of the position of Irish and Northern Irish women (– the 1967 Abortion Act does not extend to Northern Ireland).
Recent referendums in the UK have been very close, and campaigners think that will also be the case in Ireland on 25 May. It can be easy for scientists and academics to hide away in our institutions and avoid getting involved in politics – but that would be to ignore the fact that health is inherently political.
If you feel the same way, there are many ways to get involved in the final weeks before the referendum. If you have a voice or a platform, use it to support the 'Yes' campaign with medical and scientific rigour. If you know someone eligible to vote, give them a call and talk it over. If you think you might be eligible to vote, book your planes, trains and ferries! Add to the voices on social media using the hashtag #repealthe8th, write to newspapers and journals in support of a yes vote, or find out more about London-Irish ARC. Let's do our bit, as health professionals, to make sure that Ireland is on the right side of history.
Rebecca Blaylock is a current student on the Master of Public Health programme at the School of Public Health at Imperial.