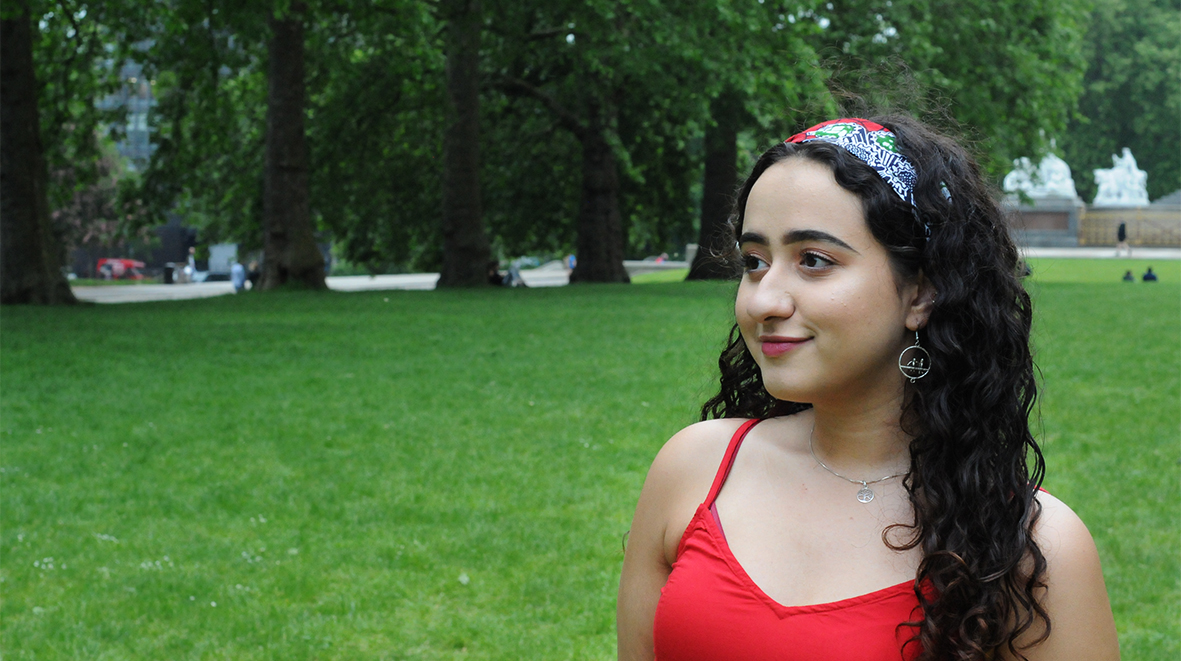 One year on from receiving her A-level results, Eva Tadros reflects on her first year of medical school. 
---
How did you feel when you opened your A-level results last year?
It was all such an incredible adrenaline rush, to be perfectly honest. I experienced a whole spectrum of emotions – anxious, excited, worried, thrilled and petrified – all at once! I had built up that moment in my head for so long and I had envisioned every possible scenario and every single way it could work out – how I'd feel if I actually got the grades and got into my dream university and how it'd feel if I didn't and what steps I would take afterwards. It was a little exhausting waiting for results day for so long and then it's a little underwhelming after you open them because you're just like – okay so what's next?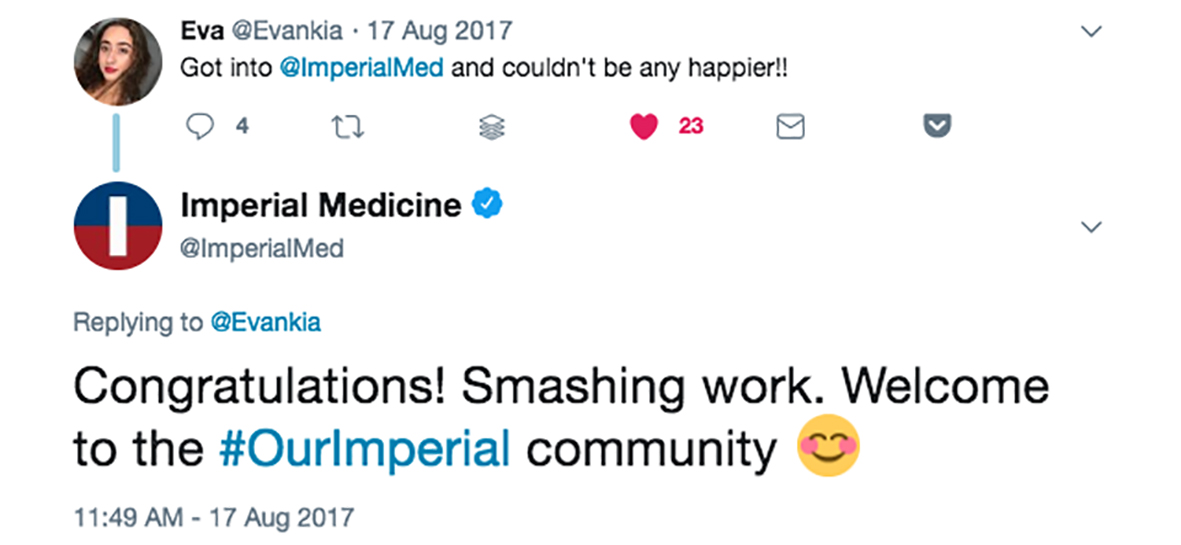 How have you found the first year of medical school?
An absolute rollercoaster. I have never cried so much, laughed so hard, learned such a vast amount and met so many people – all within the span of less than a year. It was very daunting at the beginning because though some of the content was similar to A-levels, most of it was completely new, and having such a great amount of information given to you in such a short time span can be quite scary at first. However once you get used to it, it all becomes very worthwhile. Socially, integrating into the Imperial College School of Medicine (ICSM) family was quite easy because of the amount of the opportunities available to you. I joined ICSM Netball and they became my little support network. I also met a lot of people through my tutor group, smaller teaching sessions and halls of residence, so you'll certainly make friends for life at ICSM.
Why did you choose to study Medicine at Imperial?
I debated and thought long and hard about which universities to apply for. I was certain that I wanted to live in a big city, preferably London. The dynamics of this amazing city and the prime location of Imperial within it are what drew me to it at first. I then did some research and compared it to other universities, such as UCL, and upon visiting both campuses, Imperial's just seemed to have so much going on and seemed so lively. All the medical teaching Faculty members I spoke to were incredibly friendly and approachable, and seemed like they would really support me during my pursuit of a medical degree. Imperial is also renowned for its research programmes and though I don't personally intend to go into that field, I think studying at an institution with such highly regarded research facilities gives you fresh insight and a state-of-the-art education that truly equips you for life as a doctor.
What has been the most challenging aspect of the MBBS course so far?
Adapting my style of studying, most definitely. When I first started revising the content I was learning, I found myself unable to retain anything because of the volume of the content being thrown at me. But that's because I kept trying to revise like I did for A-levels, which proved ineffective and time-consuming. After a few of Dr Mike Emerson's "Vital Signs" study skills sessions, I slowly gave up the excessive note-making and switched to the "active learning" approach he recommended – studying flashcards, focusing on the takeaway messages from lectures, and so on. I think letting go of old habits and studying techniques that have worked for you throughout your whole life is incredibly difficult but so worthwhile!
And the most surprising?
The number of social events and extracurricular activities you can balance alongside your studies, definitely. When I first joined, all the older years told me to join as many societies and go to all the events I could as a fresher. I thought they were absolutely insane; how could I possibly maintain a social life like that AND be on top of my studies? But Imperial has timetabled enough private study time as well as encourages you to have an active social life, and so this ensures you have a good balance and you don't miss out on anything, it really is amazing!
I joined so many clubs as a fresher – Boat, ICSM Netball, ICSM Coding Society, Model United Nations, ICSM Women's Football, Surf Soc and many more! I didn't really follow through with a lot of them, but signing up in the beginning gave me the opportunity to pursue them if I wanted to. I found ICSM Netball to be the most welcoming of all, and at first, I only wanted to do it socially and going to sports nights as I was petrified of being horrendous at actually playing netball. But then, after meeting the girls and getting more comfortable around everyone, I played more and more and towards the end, even played at a Varsity match! As of next September, I'm the new captain for the Socials Team, and I couldn't possibly be more excited.
Taking part in the Model United Nations (MUN) was a nice little change to the dynamic sports life and though it is a smaller society, it did teach me a lot and I met some incredible people. It also gave me the opportunity to attend conferences everywhere from Oxford and Cambridge International MUN to London MUN! My medic mum is also highly involved with ICSM's Raising and Giving (RAG) Society and she encouraged us all to attend RAG events and raise money for incredible causes, so that was an amazing experience as well.
This slideshow requires JavaScript.
What advice would you give to new students joining Imperial this autumn?
Get organised! Make sure you compartmentalise all the different things you need to do and that you get a planner to ensure you account for both the academic and social side of things as well as allocating time for revision. Though cram-revising was often my approach to things whilst I was in school, it would actually be incredibly difficult, if not impossible, to pass university exams using that technique. Doing bits and bobs throughout the year is definitely the way forward.
Secondly, join as many societies and clubs as you can – you can always drop out at a later date if you don't enjoy what they have to offer, but make sure you at least try them out. Freshers' Fair is an amazing opportunity to do this (come say hi at the ICSM Netball stall – we have glitter and sweets!)
Any tips on dealing with the stress and pressure of results day?
Do not panic – at all! That's the worst possible thing you can do and it will put you in an awful mindset that ill-equips you in handling what comes next. My advice would be to check UCAS track the morning of results day. Though you might not have your results yet, UCAS Track usually updates first and then you'll have a better idea of where you stand. I know it's easier said than done – but try not to stress too much over results. You have done your best and tried your hardest to ace those exams and get the grades and your effort will pay off. Plus, it's all done now, so it's no use stressing over them or getting upset over possibly not achieving the grades. Ensure you have a clear mind that will allow you to make smart decisions following your results.
What are you most looking forward to in Year 2 of the course?
That would definitely have to be being pulled out of my comfort zone even more – both academically and socially. I love being challenged and Imperial does not disappoint in terms of presenting challenges. Year 2 is meant to be a heavier workload than Year 1 but I'm excited to see what I can come up with when confronted with such a challenge. I am also super hyped about all the social events ICSM Netball have planned – definitely an amazing way to de-stress and step out of the bubble of revision. There will be so much to do and it's going to be an exciting year ahead!
Eva Tadros (@Evankia) has completed her first year of the Medicine (MBBS) course at Imperial College School of Medicine.  
UCAS applications for 2019/20 entry to Medicine open on 5 September and close on 15 October.
If you are joining Imperial this autumn, you can find information on what to do next on the New Students website or check out these tips on preparing for medical school.