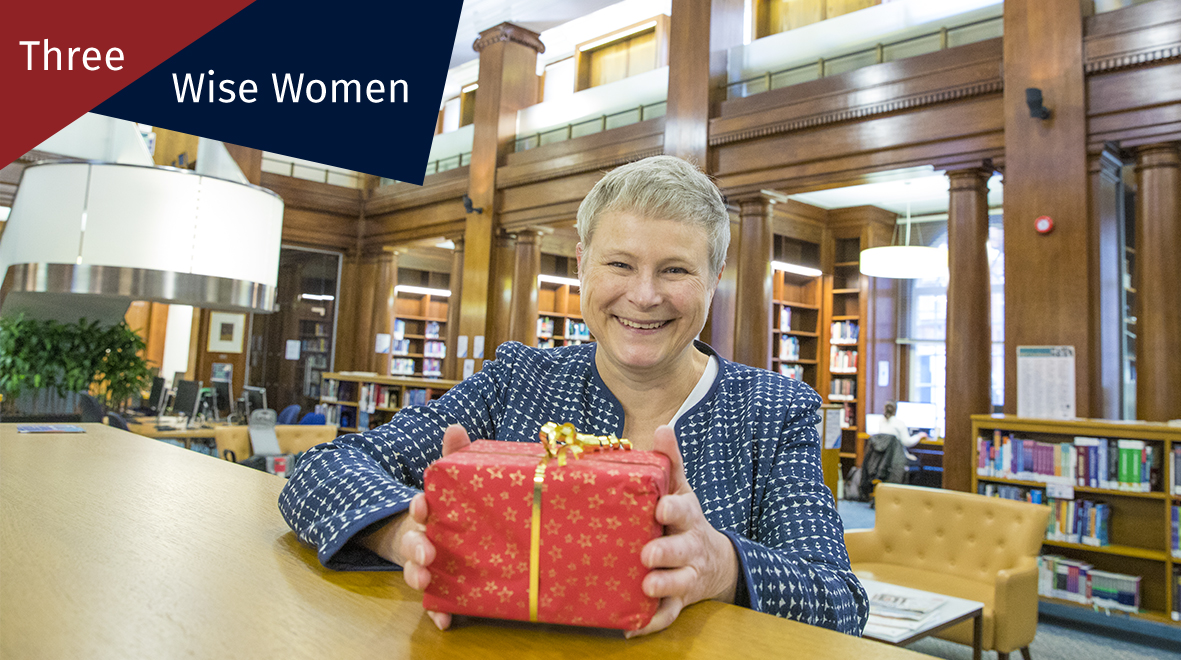 This festive period Three Wise Women from the Faculty of Medicine will be giving us the gift of their wisdom.
Our final wise woman, director of the School of Public Health Professor Deborah Ashby, shares her joy of medical statistics, from working in neonatal research to taking on the Royal Statistical Society presidency. 
---
"We Three Queens of Orient are…" came the dulcet sounds in the lead-up to Christmas. I looked up across the old Liverpool maternity ward, to see three colleagues singing and, channelling Morecambe and Wise, dancing towards me and my newborn daughter. The three women who had come to visit were all, like me, lecturers in medical statistics at the University of Liverpool, and that memory still brings a smile.
Although it was less glamorous than the alternatives, I'd chosen to give birth there, reasoning that if it went well, it didn't matter where I was, but if not, I'd rather be somewhere with wide experience, actively engaged with and informed by research. In Liverpool, I had worked with the academic doctors from that maternity hospital, so knew I would get both. You might wonder why they had sought my advice, but research on babies involves analysing complex data on them, or designing studies to test competing treatments or strategies – all of which needs statistical skills along with clinical input.
That work on babies has continued at Imperial with Professor Neena Modi and her team at Chelsea and Westminster Hospital. We have done a trial of the best feeding regimen for premature babies, and they have the most amazing data – the National Neonatal Research Database –  which presents fascinating statistical challenges, such as how you evaluate the performance of units when babies regularly get transferred between them, which our PhD student investigated. As a Westminster Hospital baby myself, there's the added pleasure of giving something back.
From babies to seniors
I don't only work on babies – over the years I've carried out research with clinical colleagues across the whole life-course, with studies on cystic fibrosis, heart disease, cancer, and dementia and depression in the elderly. I've also spent many years on the government committee for the regulation of medicines. This in turn gave the opportunity for research into better decision-making to balance the benefits and risks of medicines, where rigorous approaches really help make the best use of the available data. This draws on well-established statistical approaches to decision-making, which involves balancing data from trials, and other sources, with how patients or other decision-makers value the different outcomes that might be affected.
At the helm 
I've also been a member of the Royal Statistical Society (RSS) for my whole career. This has helped me keep up-to-date with wider developments in statistics and data science, which has proved really useful in my own research, as well as keep me abreast of how statistics are being used in other areas. I was deeply honoured to be elected as President for 2019 and 2020, especially as I am only the fourth woman in its 185-year history.
The origins of the society in 1834 were for the public good. As president, I want to focus on what that means in the 21st century. At Imperial, where I am director of the School of Public Health, we are using data analytics to address an amazing range of health challenges, locally and globally. Those have parallels in other areas, including education, crime and justice, and the environment. The technical capacity for data collection and analysis have evolved beyond recognition. To make the most of the opportunities for benefiting society, the RSS needs to engage in debates about ownership and stewardship of data, and the issue of trustworthiness in data systems around us, as well as capacity building among data scientists, and more widely. I am really looking forward to leading the RSS during this time.
In the media
As well as academic and government roles, I also get to explain what we do. Through taking part in the Academy of Medical Sciences' award-winning media training for women I've been on BBC2's Newsnight to discuss how people know what research to trust on what does or does not cause cancer, when the headlines seem to change from day to day. The key thing is to look beyond the headlines, as the actual journalism is often better balanced, and to go to trusted sources such as CRUK or the British Heart Foundation to get a balanced perspective on what the evidence means.  I've also been on Radio 4's Inside Health to explain adaptive trials after Dame Tessa Jowell had said what a good idea they were for patients. I've even just filmed Christmas University Challenge as a member of the Exeter University alumni team, so you can find out how we did by tuning in during the Christmas break!
And what became of my daughter?
Did her visitation, at only a few hours old, put her off statistics? Not at all! She too is now a statistician in the Civil Service, where she is currently in the Office for Statistics Regulation, who provide independent regulation of all official statistics produced in the UK. Statistics is a fascinating rewarding profession, so, if anybody would like a visit for a new child this festive season, put up their star and I'll see which wise women might be available.
Professor Deborah Ashby (@Deborah_Ashby) is director of the School of Public Health and holds the Chair in Medical Statistics and Clinical Trials at Imperial College London. She was elected President of the Royal Statistical Society starting in 2019.