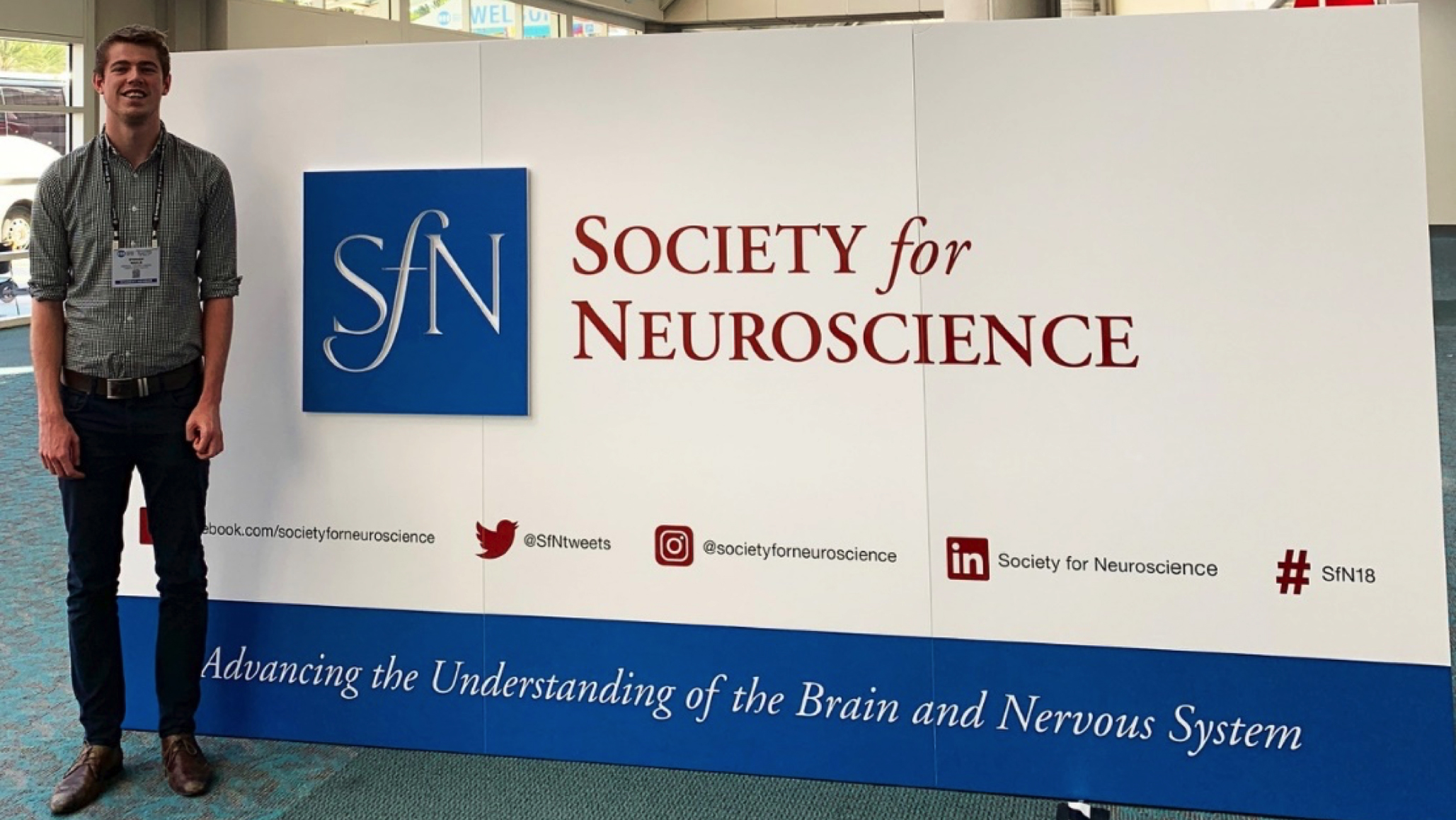 Medical student Stephen Naulls shares his experience from attending his first international academic conference and offers some tips on making the most out of it.
---
As a medical student, I felt apprehensive but excited about presenting at my first international conference in California. Since I had never been to the USA before, my surroundings – both geographically and scientifically – were very alien to me! I thought it would be useful to reflect on my experience and offer some tip for future conference first-timers.
Which conference was I attending?
Neuroscience 2018 is the annual international meeting of the Society for Neuroscience (SfN). Bringing together scientists and researchers from across the globe, it provides an opportunity to share knowledge and learn about the latest advances in brain research. It is considered to be the most important annual forum for the neuroscience community – and this was certainly evident on first arrival at the convention centre!
What was I presenting?
I was presenting work I completed in the fourth year of my MBBS degree, where students undertake an intercalated BSc year in a specific research pathway, as part of my end-of-year project. I decided to do the Neuroscience & Mental Health BSc pathway and I can say with confidence it was my best experience at medical school to date.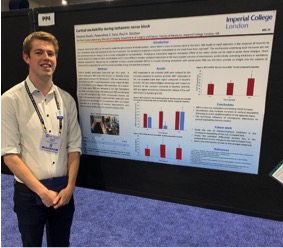 The research carried out at the Nick Davey Laboratory – where I was based – is incredibly interesting and has lots of long-term potential clinical translation routes.
I was specifically using a technique called an ischaemic nerve block, which transiently reduces the blood supply to a participant's limb using a tourniquet (a compressing device) for a short period of time, blocking its sensory input to the brain. It is then possible to use a non-invasive form of brain stimulation (transcranial magnetic stimulation) and electromyography to monitor changes in cortical excitability that occur as a result of this loss of input. These changes in excitability are a result of the brain remodelling to adapt to such a change– also known as neuroplasticity. We had interesting results, which I hope BSc students in the future can continue to work on and find equally interesting findings worth presenting in such a prestigious international forum.
What did I get from the experience?
As an undergraduate, no matter how much you simulate it, you simply cannot replicate the conference environment. Neuroscience in particular is exceptionally intimidating when you first turn up. There were over 30,000 attendees this year – it took around 15 minutes to walk from one end of the conference centre to the other!
There were posters on everything neuroscience: autism, addiction, dementia, stroke, cortical excitability (my favourite!), and even one assessing the manual dexterity of pianists versus ordinary people, and how you might use that in neurorehabilitation! For a neuro-obsessed medical student, there was so much to take in and it was quite motivating seeing the seemingly infinite avenues researchers across the globe are pursuing to better understand the brain.
There was also lots of Imperial representation – Professor Simone de Giovanni and Professor Richard Reynolds (who both gave invaluable lectures on the Neuroscience & Mental Health BSc pathway last year) were presenting their work. It was a real honour to chat to them in such an environment and to be able to place it in the context of my teaching from last year.
I don't think I was grateful enough for the excellent standard of teaching I received at Imperial until I was put in this environment and expected to be able to interact with scientists in an unfamiliar format. I would urge any medical student to take this kind of opportunity if it comes your way – you will really develop your skills as a scientist and young researcher!
Tips for making the most of your first International Conference as a medical student
Get your presentation completed early: this might sound intuitive, but you'd be surprised how long you can put it off for. You don't want to be the person whose poster has typo's, a strange layout, or stumbles over their slides because they haven't taken the time to properly prepare.
Rehearse, rehearse, rehearse: with the above advice in mind, rehearse your presentation! Most people have a 2-3 minute spiel that they give to people who come over interested in their poster, but there's nothing worse for scientists than making the effort to go over to see someone's work and they don't know what they want to say to you. Rehearse the scientific content with your peers. Rehearse the presentation skills with anyone who will listen – beyond the scientific content, the way you put yourself across is super important.
Be succinct: at conferences like SfN there are thousands of abstracts released. Someone might be interested in your work, but not have time to spend 30 minutes with you at your poster. Be prepared for someone to ask you to describe your work in 30 seconds – and put across your most important findings in this time.
Prepare your travel and accommodation well in advance: most of the time you won't have been to the conference location before. Make sure you arrange your flights and accommodation well in advance so you don't need to stress when you arrive. We thought getting a train in the USA was a good idea, but a quick Google search would've told us getting a coach is much more sensible. After a three hour delay on the Pacific Surfer, we wished we'd properly researched the best route of completed our journey from LA to San Diego. Don't be us – allow yourself to focus solely on the conference once you arrive!
'There are two types of people at conferences': this is the advice most people give you. You will be greeted by the expert, who knows everything on the area you are presenting, and have a thorough and in-depth conversation with them that can be productive and insightful. You could also be greeted by the person who knows nothing about your field, but has a neuroscience background. Don't be offended or frustrated if these people ask a question which misses the point or doesn't make sense. Usually they've come over because your title looks interesting or because they've noticed no one is at your poster and want to give you a chance to speak. I did the same thing to a couple of first-time presenters and it is comes from a good place! There is a third type of person who just wants to criticise work people have done, but truthfully these people are few and far between.
Explore the local area: I'd never been to the United States before, so I was obviously excited to get out there and sample the culture! We stayed in an AirBnB in Hillcrest, which is an up-and-coming area in the north of San Diego. There were lots of amazing restaurants nearby, and I think I must've eaten my weight in fish tacos (which San Diego is famous for!) by the end of the trip. Make sure you go and see the local area and experience a new culture as part of your trip!
Don't be scared of the big-dogs: at one point one of the world-leading experts in our field came over to our poster and had a conversation with me. His name was referenced three times at the bottom of the poster! My first instinct was to try and get my supervisor to take over, but I held my nerve and spoke to them, which was a really useful experience. Plus he looked quite happy as he walked away!
Be motivated by the experience: Getting to see the finest minds in neuroscience come together and collaborate with the common goal of improving our understanding of the brain and ultimately enhancing our ability to help our patients was an incredible moment. I'd been a bit demotivated with medicine before I left – but having the opportunity to be in this environment was really amazing for my morale. Sitting down with the entire lab after our presentations were over and having a cocktail overlooking the sea was a really lovely moment and I left feeling much more positive about medicine than before I'd left.
I am enormously grateful to Dr Paul Strutton and Dr Pawandeep Sarai (pictured below), co-authors on my poster and my supervisors, for their dedication and support throughout my project, and to both the School of Medicine and the IC Trust for the financial support they gave me to attend the conference.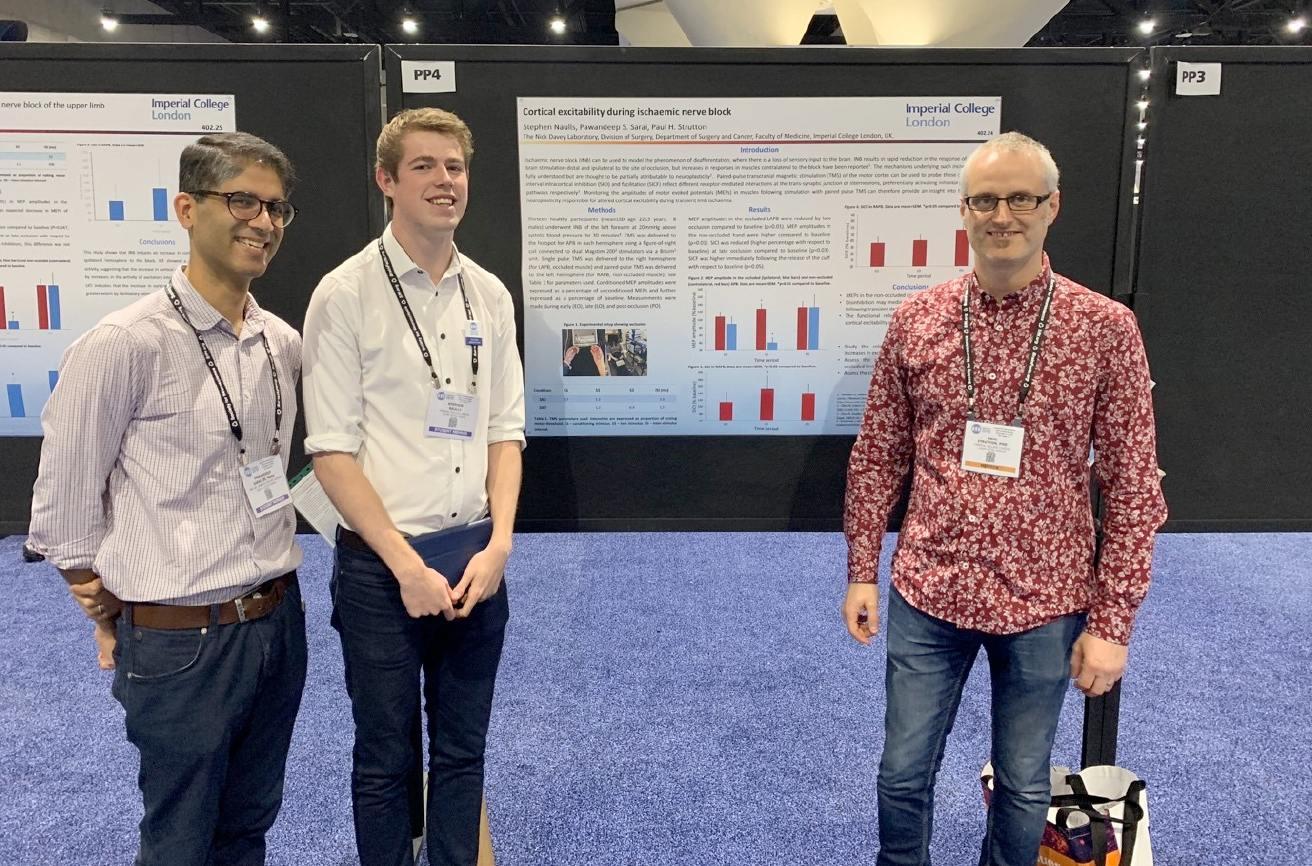 Stephen Naulls is a fifth year MBBS student at Imperial College School of Medicine.