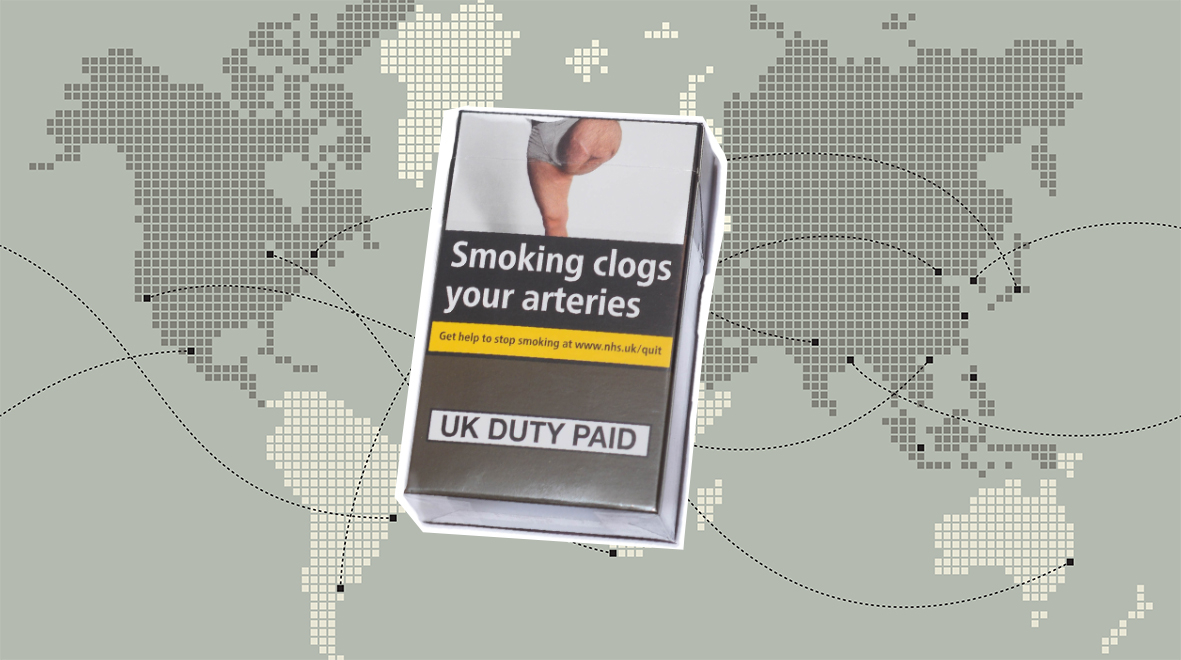 ---
Australia was the first country in the world to introduce standardised, or plain, packaging for cigarettes and tobacco. The move was the product of a long-running campaign from the public health community and meant that the packets are allowed no branding; just the product name in standard font, colour and size. Since Australia brought in these measures, the UK followed in 2017, as did Ireland and France, increasing the number of countries in the world which restrict one of the key avenues for the tobacco industry to advertise their products.
Reduce smoking uptake among children
The key goal of standardised packaging is to reduce smoking uptake among kids. We know that 280 children take up smoking every day and that smoking is responsible for approximately half of the life expectancy difference between rich and poor.  We also know that the key determinants of children taking up smoking are whether their parents and friends do, so action to stop uptake can have dramatic effects. There are a wide range of things governments can do to protect children both from being exposed to second-hand smoke as well as from taking up smoking.
We and others have shown wide-ranging benefits from banning smoking in public places for health among adults and children, as well as further benefits from expanding these laws to cover banning smoking in cars with children inside. We have also assessed the impacts of removing the display of tobacco from the point of sale in England, which in common with other research, found that these measures can reduce the exposure of children to these advertising messages.  Standardised packaging is another step on this journey to reduce the amount of advertising which children are exposed to, and in turn reduce the appeal of tobacco and uptake among children.
Illicit tobacco trade
But one argument against standardised packs is illicit trade in tobacco. This refers to tobacco which is counterfeited, smuggled or has evaded due taxes. Illicit trade in tobacco is a serious problem, being responsible for an estimated £2.4billion in lost revenue in 2015/16. Apart from these lost revenues, the availability of cheaper tobacco can blunt the effectiveness of price and tax increases in reducing the attractiveness of smoking. We know that tax and price increases are the most effective method to reduce smoking and the damage it causes, and contrary to some claims we have found that increased prices of cigarettes are not linked to more illicit trade.
The tobacco industry and its allies are keen to present the argument that bringing in standardised packaging for tobacco will lead to increases in illicit trade. In fact, since implementation in Australia, there has been other dubious research to cast aspersions on the policy. Although evidence from Australia found no suggestion that this was the case, the argument is used to convince governments not to introduce this policy which will affect the bottom line of the tobacco industry.
Until now there has been no assessment of whether there was any change in the availability of illicit tobacco in the three countries in Europe which brought the measure into force. Our latest analysis looked at data from over 50,000 people across all 28 nation-states in Europe before and after these changes to the law. We found that levels of people reporting being offered illicit cigarettes fell in countries which implemented standardised packaging and those that didn't. There was no difference between these to suggest that standardised packaging was linked to illicit tobacco levels at all.
These findings should reassure policymakers that arguments about increases in illicit trade after implementing standardised packaging are false. The World Trade Organization has decided that standardised packaging is consistent with international law and the accumulating evidence is clear that it would protect the health of children.
Dr Anthony Laverty is a Lecturer in the Public Health Policy Evaluation Unit in the Department of Primary Care & Public Health.