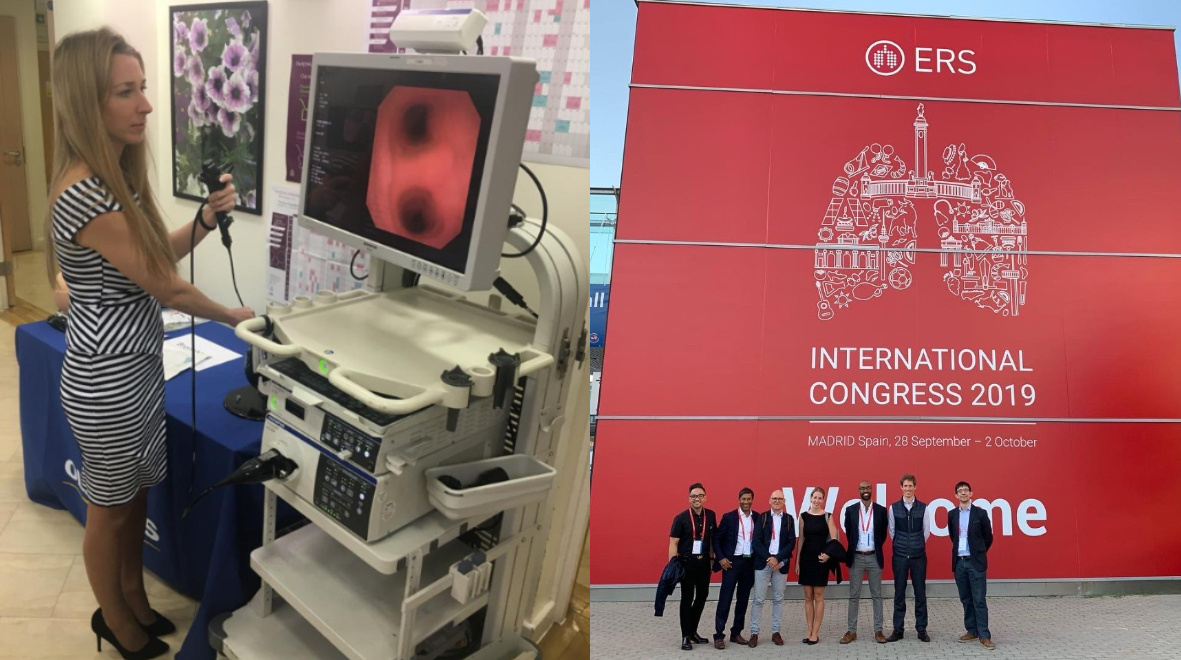 Dr Francesca Conway takes us through a typical week as a clinical research fellow and how her previous time at Imperial contributed to her developing an interest in a career in clinical academia.
---
Monday
6am. I'm awakened by the horrifically jolly alarm tone on my phone. It's still dark, it's still raining, and it's still cold. Hedgehogs have the right idea hibernating over winter, I think, as I haul myself out of bed.  Must consider this hibernation proposition in my next supervisor meeting. 1 shower, 1 yoghurt and 3 smoothies later and I'm in the hospital.
Today I have a patient coming to see if she is eligible to be recruited to the clinical trial which forms part of my PhD. Mrs X has travelled from 300 miles away. She greets me with a smile and tells me how pleased she is to be here. I immediately remember why I love my job, and scrap the idea of hibernation. I offer her a coffee, she gratefully accepts and whispers, could I have an extra shot in that? I assume she means coffee. I wonder what time she woke up, but am pretty sure it was before 6am.
I am researching a potential new treatment for Chronic Cbstructive Pulmonary Disease (COPD) for my PhD. Mrs X suffers with COPD, a disease affecting the lungs most commonly caused by smoking. More than 3 million people die from it each year. Targeted Lung Denervation or "TLD", is a non-surgical procedure where we deliver energy to the airways using a system made by Nuvaira, a US-based company. The idea is that the energy disrupts the nerve supply to the lungs, so the airways relax and open. With initial data looking promising, we hope that this will lead to improvements in health for patients like Mrs X. More information on the Airflow website.
I invite Mrs X into the consultation room (coffee, with extra shot in hand). We discuss her symptoms – very typical for COPD. Breathless, struggles to walk, even on flat ground but particularly on inclines. Cough. Phlegm. Infections. In and out of hospital with chest problems. I just want to be able to play with my grandchildren, she tells me. I consent her to the trial, we get started with her testing. She will have a whole host of investigations done today; lung function tests, scans, blood tests, checks of her heart. We finish late afternoon. I start anonymising and uploading her scan while she travels back home.
Tuesday
Today I'm writing. Who knew there would be so much writing in research? Study protocols, grant applications, ethics submissions, contracts, budgets… not to mention the write up of results (a (slightly delayed) work in progress, thank you covid!).  It becomes apparent to me that the job description for clinical research fellow should include degrees in statistics, accounting, law and ethics and professional writing, but I'm pleased that by the end of the PhD I'll have developed in these areas.
I do at least have some research experience. I was introduced to the realms of research during medical school when I did the Respiratory Sciences intercalated BSc. We learnt plenty about respiratory science, but also about research itself. Research methodology, study design, and, most importantly, how to actually formulate a research question – not as easy as I thought! It was undoubtedly what drew me to respiratory as my speciality (I'm a respiratory specialist registrar) but also to a career in clinical academia.
The course leaders, Professor Louise Donnelly and Dr Duncan Rogers, and my supervisors Dr Gregory Quinlan and Niall MacCallum, demonstrated a real interest in our projects and also our careers beyond the BSc. They were extremely proactive in supporting us to get the most out of our BScs. It was very well run with a balance of tutorials, lectures, journal clubs, and we were given fantastic opportunities to present our research.
A highlight for me was presenting my data at the American Thoracic Society in San Francisco. It was a very inspiring experience to be able to discuss my work and to learn from others with much more experience. And with a weekend to spare from the end of the conference until my return to London, a celebratory glass of wine or two in the neighbouring Napa Valley, and a cycle across the Golden Gate Bridge were welcome treats (not at the same time!). I was kindly supported by an award from the British Lung Foundation – it was a pleasure to learn more about their important work and this also opened more doors for developing my research and networking.
When I was interviewed for an Academic Foundation Programme (AFP) job they asked me to critique an article; we'd been taught how to appraise research in the Respiratory BSc, so it was familiar to me, and I got my first choice job. I have previously written a blog about my time doing an AFP so I will not mention it further here, suffice to say it was a very valuable experience. Academia is competitive and commitment is important. I was very fortunate to receive funding from the NHLI Foundation and an MRC pre-doctoral clinical research training fellowship to support my PhD.  I have no doubt that my BSc and AFP research and related prizes, publications and presentations helped me to be competitive in these applications, along with great supervision and a sprinkling of good luck!
Wednesday
Procedure day! Today we will be doing the TLD procedure for our patient. The patient is prepped and ready to go, and all goes smoothly.  Our second bronchoscopy procedure is for a different research trial. I head into the carpark to fill the machine with liquid nitrogen, which we will spray into the next patient's lungs in a clinical trial for chronic bronchitis. Someone, no doubt in an effort to be helpful, has attached a connector onto our nitrogen tank. Said connector is totally incompatible with our machine. I was told problem-solving is a very important skill in research. I wasn't told that being able to use a spanner to prize open two metal pieces which are frozen together at minus 80 degrees is too. Fortunately, our team's research nurse knows every single person in every single department of the hospital and miraculously materialises with a tool box of every single tool. Our other research fellow gets to work; first spanner, too small; second spanner, too big; third spanner – just right. Success!
Thursday
It's lab time! Cells. Centrifuge. Pipette. Cells. Centrifuge. Pipette. Cells. Centrifuge. Pipette. Cells. Centrifuge. Pipette. Cells. Centrifuge. Pipette. Repeat… or is it pipette before centrifuge? When did I last eat something? We seem to have a remarkable ability to always remember to feed our cells, but always forget to feed ourselves. Cells. Centrifuge. Pipette. Repeat…
Friday
I have my meeting with my supervisors today. I'm very lucky to have Professor Shah and Professor Wedzicha to guide me. They possess a unique skill set of knowing all the answers to my (never-ending) questions, having unlimited patience and remarkable adaptability, particularly during international pandemics. (They also have adorable cats). We discuss progress and brainstorm some project adaptations due to covid. Then onto some data analysis, and finally it's home time. I say goodnight to a colleague as I leave the hospital. Bye, have a nice weekend, he replies. Weekend? What's that?
Dr Francesca Conway is a clinical research fellow in the airways division of the NHLI and specialist respiratory registrar in North West London. She is in the 2nd year of her PhD, supported by an MRC Fellowship and previously an NHLI Foundation fellowship. She completed her undergraduate medical degree at Imperial in 2013 and received the Alan Stolow prize for the best performance in the Respiratory Sciences BSc. On graduating, she completed an academic foundation programme with Imperial and received the Sir Brian Jarman prize for the best research project in her academic foundation division.