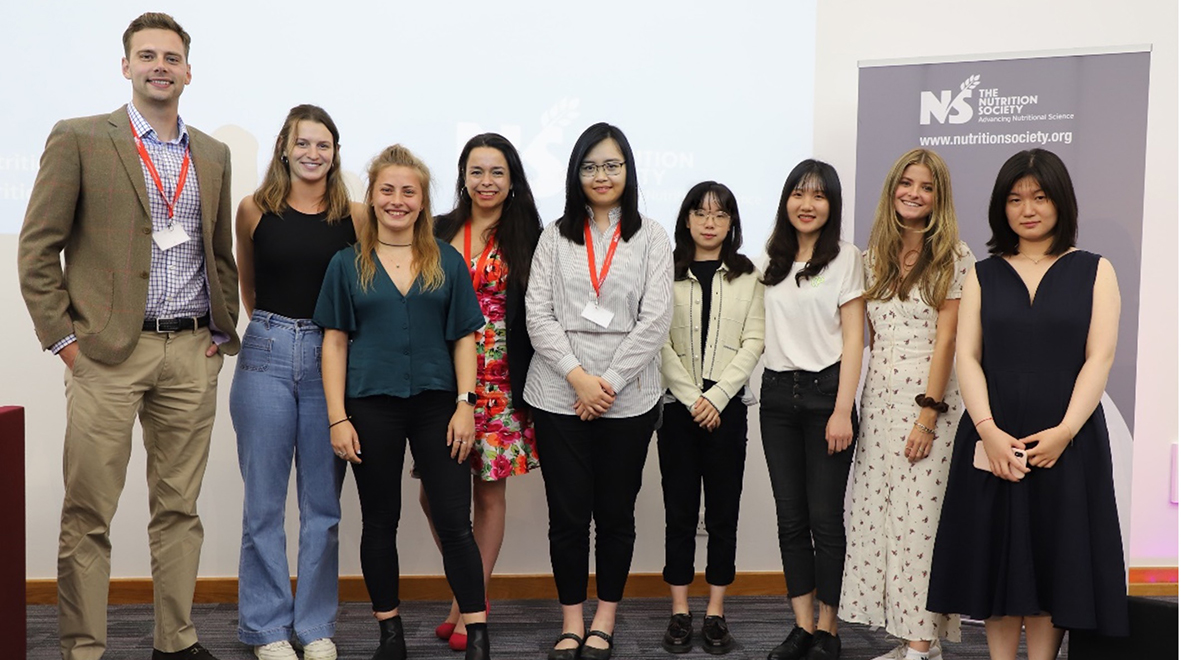 Three Imperial postgraduate research students recount their experiences of hosting the Nutrition Futures Conference 2021 in collaboration with The Nutrition Society.
---
In September 2021, Imperial's Section of Nutrition Research hosted the Nutrition Futures Conference 2021 in collaboration with The Nutrition Society at the Cavendish Conference Centre, Marylebone.
The Nutrition Society is one of the largest learned societies for nutrition in the world. In late 2019, Dr Aaron Lett led the bid to bring this student-focused conference of the Nutrition Society's conference calendar to Imperial College London. This was the first conference the Section of Nutrition Research at Imperial has hosted and provided the perfect opportunity for Imperial to share its expertise in nutrition-related research and strong ethos and enthusiasm for student development to undergraduate and postgraduate nutrition students across the world.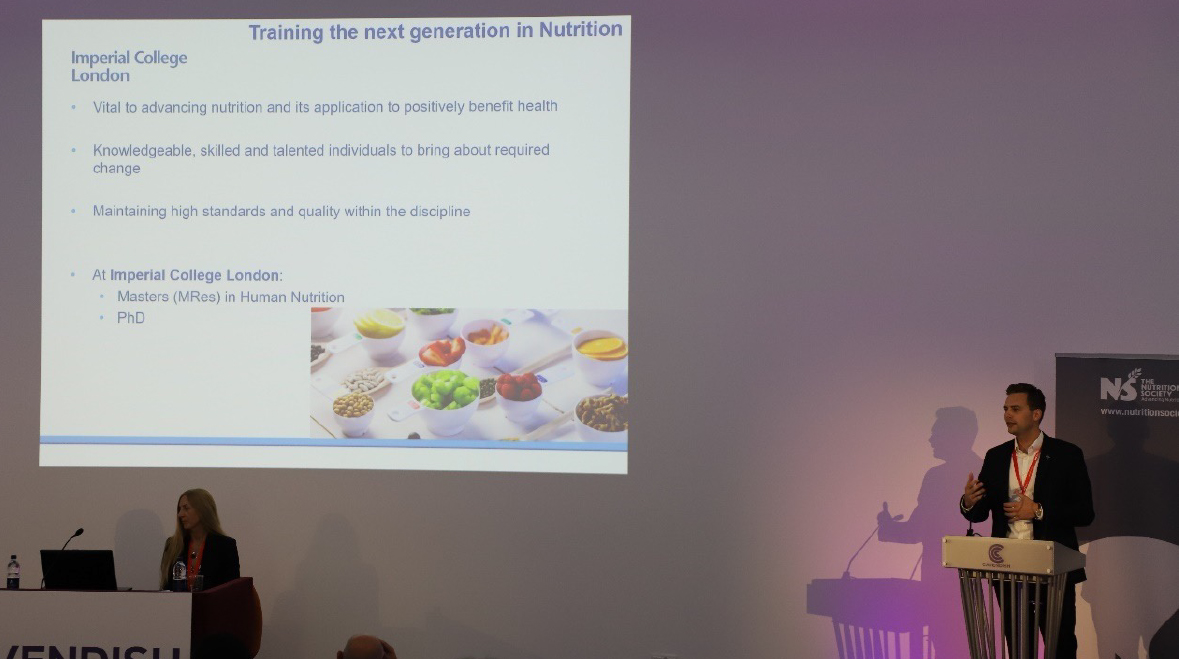 Imperial students were at the heart of organising and hosting this conference – a unique and prestigious opportunity during the early stages of their careers. The Imperial conference committee was formed by Dr Aaron Lett with PhD students within the Section for Nutrition Research (Jennifer Pugh, Aygul Dagbasi, Baichen Lu, Jerusa Brignardello-Guerra, Lina Alqarni, Qiling Chen, Hannah Stephens, Mingzhu Cai and Vally Wu). This committee led on the organisation and delivery of a number of activities across the conference in collaboration with the Nutrition Society and several external partners – From hosting to chairing sessions and delivering two engaging social events.
It was an intense and exciting two days, with the conference achieving the highest attendance ever for a Nutrition Futures conference with over 160 delegates attending from Australia, Ethiopia, Germany, Ireland, Italy, Maldives, Pakistan, Saudi Arabia, Trinidad and Tobago, UK and USA either in-person or online. Feedback from everyone involved and attending was tremendously positive.
As Imperial students return to their research, we speak to three of the Imperial conference committee to hear about their experience:
Jennifer Pugh, 2nd year PhD student within the Section for Nutrition Research
The Nutrition Futures conference was a number of firsts for me; first Nutrition conference as a PhD student, first time organising a conference and of course, one of the first opportunities to network 'offline' in more than 18 months. The Nutrition Futures conference gave plenty of opportunities for us to step outside our comfort zones, both in the role of conference organisers and as delegates ourselves.
Networking can be challenging at the best of times, let alone when you are only just getting comfortable with leaving the house or wearing anything but pyjamas. However, between the evening social pub quiz on the first day, the morning yoga social (organised by yours truly) and the abundance of coffee breaks, there was plenty of time to break the ice and have genuinely interesting and refreshing conversations with other people beginning their careers in the same field. These conversions reignited my interest in aspects of nutrition research outside of my immediate department and sharing stories of research success and challenges helped remind me that although research can be lonely at times, there are many on the same journey and you do not need to go it alone. Having the opportunity to network allowed me to hone my ability to discuss my research and other interests in an incredibly welcoming environment. I think the conference provided the perfect opportunity for new connections to be formed and possible collaborations between upcoming researchers in the field. What's more, the panel of experts who held sessions during the two-day event mingled amongst the students and were enthusiastic and open to answering any questions and offering practical advice on career progression. I am grateful I had the opportunity whilst as a student at Imperial to help organise and host this exciting event and I look forward to many more Nutrition Society events in future!
Mingzhu Cai, 4th year PhD student within the Section for Nutrition Research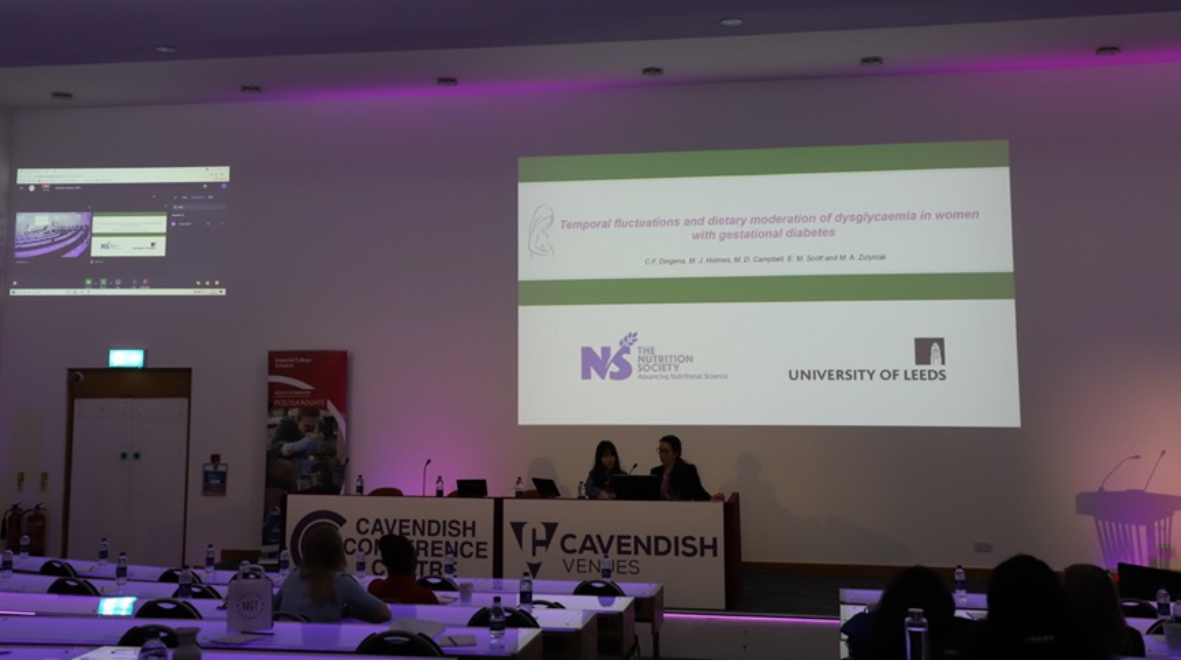 I've attended and presented at several academic conferences, but this is the first time that I have had the opportunity to organise, and then chair a session at such a formal and large scientific conference. This was certainly a valuable and unique experience at this early stage of my scientific career.
I was mainly responsible for chairing an oral communication. As a nutrition PhD student, this unique opportunity was one that I looked forward to the most. In the session I chaired, we had 16 speakers from different countries around the world to talk about their research. It was exciting to hear innovative ideas from peers and stimulate discussion and conversation through my chairing role.
I was pleased that chairing the session went very well and that we received very positive feedback, however you may not know how intense it was "behind the scenes".  Perhaps the most challenging task I found when chairing the session was timekeeping.  As this was a hybrid conference, we had online and face-to-face speakers and audiences, it was extremely important to start and finish each presentation on time – Whilst still constantly managing and leading the Q&A online and in the venue, evaluate presentations and engaging the room. I felt exhausted at the end of the day, but it was worth the effort!
I've gained a lot from this experience from being involved in this conference as an organiser and chair – not just academic inspiration and chairing skills, but also unforgettable memories. I also feel very lucky to have met some new friends who can share the passion and interests.
Lina Alqarni, 3rd year PhD student within the Section for Nutrition Research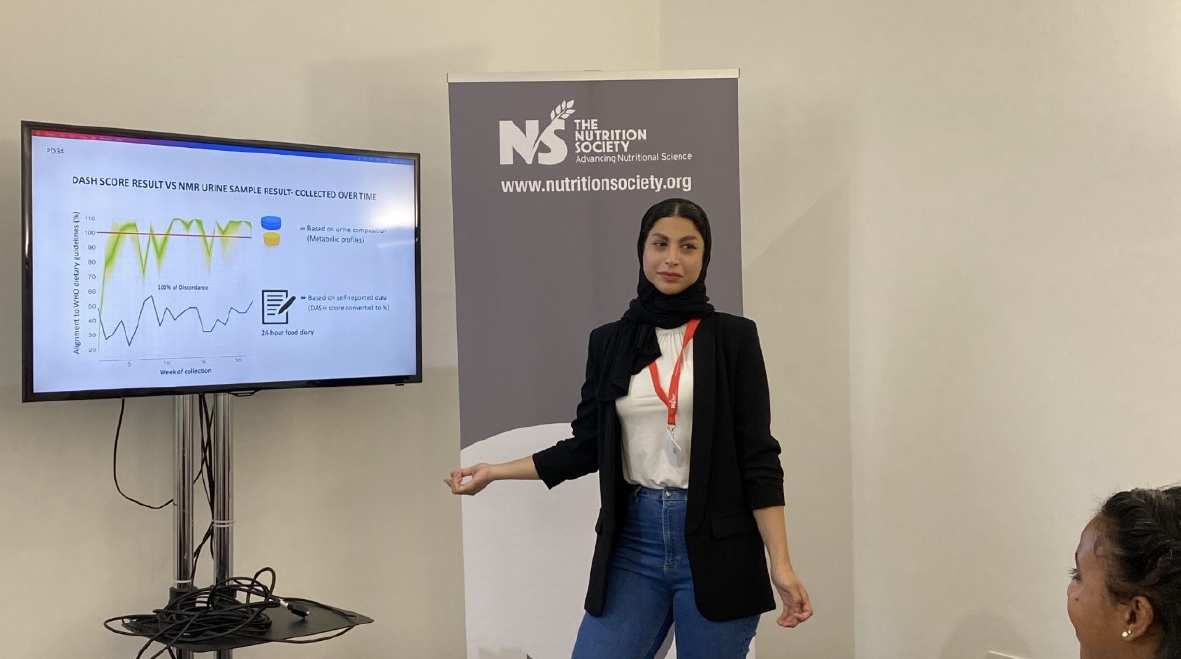 As well as being part of the conference organising committee, I was very happy when I received an email saying that my abstract has been accepted for an in-person presentation; however, I was shocked when I knew that I must present my research in three mins, for me, this was the hardest part as I was having a lot of things to say!
In my three-minute presentation, I intended to highlight the problems of the current dietary assessment tool (food diaries) and the need for an objective method. My presentation was about finding solutions to improve the dietary reporting over a long period of time. I learned quickly how to explain complex things, simply and clearly in a few words, and also not to reveal "all your research at once" (leave some space for questions and discussion!)
The presentation was followed by a discussion, where I received very encouraging and positive feedback. In the beginning, I was nervous and stressed about the idea of answering questions from other researchers but then I realised that it was a great opportunity to have different opinions on my work and learn from people, who I would of never have met if I didn't have the unique opportunity to engage in this conference hosted by Imperial. Apart from sharing my research, it was great to have the chance to hear to other colleagues' work. This can be very inspiring and sometimes it helps to hear someone else's thoughts to develop your own theories too. I really appreciated the unique opportunity and experience of organising and contributing to this conference – something I wouldn't have had the chance to be part of otherwise!