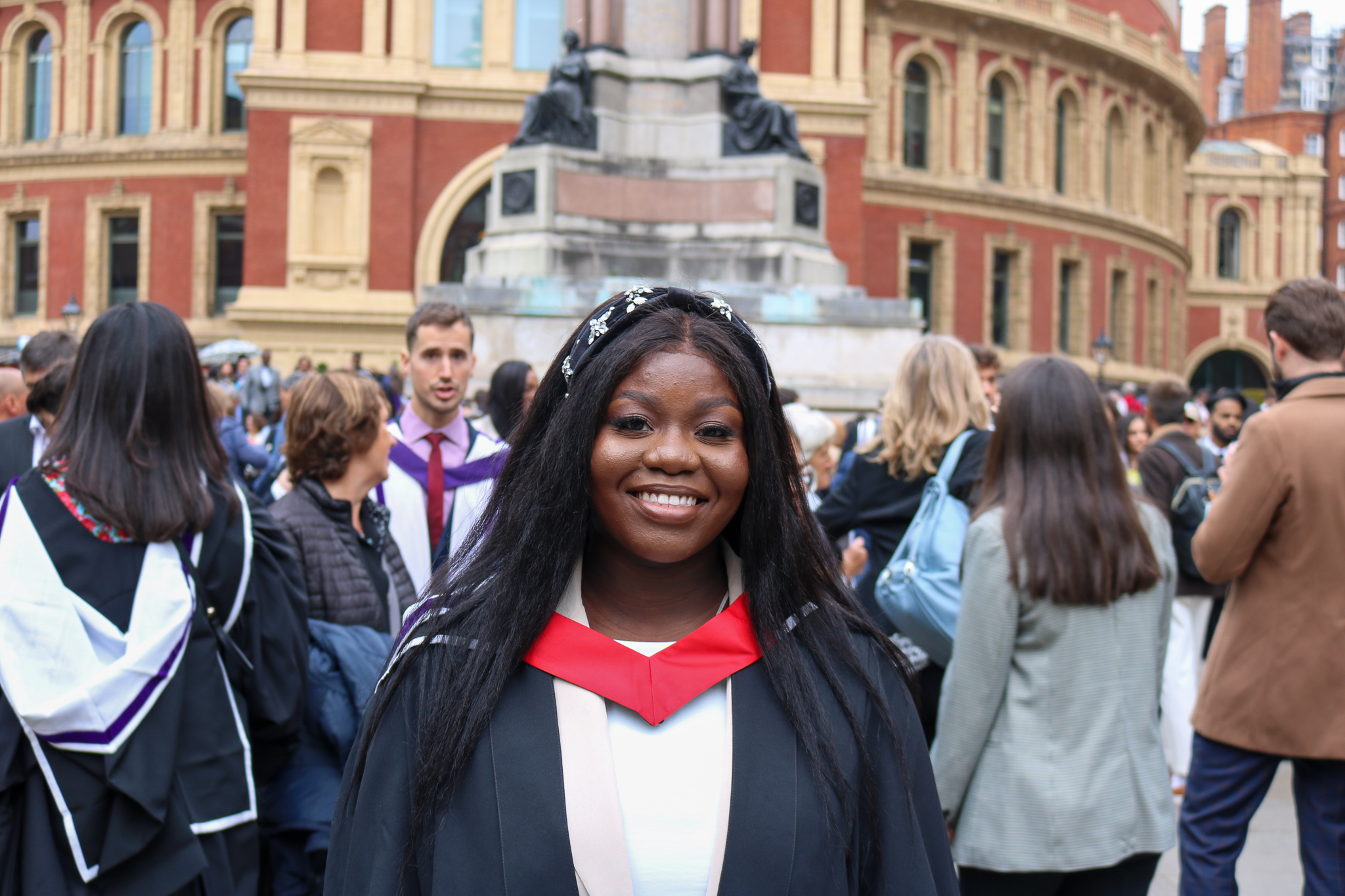 Graduating is a significant milestone, especially if your studies have been impacted by Covid-19.  Jasmin Adebisi, now an alumni of the Master of Public Health programme, shares what it meant to walk across the stage at the Royal Albert Hall.
---
Graduation represents the culmination of a journey and the attainment of a goal. It is an exciting period in any student's life which brings a long journey of hard work to a close. Graduation day can be filled with an array of varying emotions, including feelings of joy, pride and contentment but also thoughts of anxiousness, worry and concern of what's to come next.
Having been a part of the Covid cohort of 2021, I can say with confidence that I have also experienced these emotions during my time studying. Reflecting on the start of my journey, I was bursting with excitement on getting accepted to my master's course but was also deeply concerned because of the pandemic and the future.
I was worried about whether I could complete the programme to a high standard, having to study online and whether I would miss out on the in-person benefits of university life. Although these worries were valid, it did not always turn out how I expected.
This was especially true when I was struggling with one of my modules and approached my tutor to let her know of the situation. She took the time out of her evenings to go over the content I was having trouble with and helped me to have a clearer understanding. It showed me, that regardless of whether you are studying online or in person, having someone that is advocating for you and supporting you, can make all the difference to your studies and your university experience.
Your network is your net worth
We may of all have heard of the saying "Your Network is your Net worth" and it may sound cheesy, but my time as a student taught me to never underestimate the power of connecting with people. With such an internationally diverse student body at Imperial College London, you have the world in one place (even over zoom as it was for my case)!
So, what were the benefits for me?
When you have a community of people who are going through the same situation as you, you can feel reassured in your thoughts, emotions, and feelings. Such a journey, especially over zoom, can be difficult at times, but making friends on your course can bring reassurance and comfort during an ongoing period of stress and uncertainty.
I connected with an Imperial graduate by coincidence at an event two years before starting my course. Being informally mentored by someone who had gone on this journey before me, allowed me to learn from the mistakes they had gone through and saved me a lot of time. Not only that, but they were able to guide me, and many others from my cohort, by providing platforms which helped us to connect with professionals and other students across the UK. This allowed us to raise our profiles, share knowledge and provide us with options for careers in the future.
I think it is important to learn and pass on the help that you received to others. If you know that you can support another person, even in some small way, it is never too late to help out.
Graduation is more than just a day
Graduating meant more than just walking across a stage for me. For some it may not have felt that significant but for me, graduating from a university such as Imperial meant more than just receiving a degree. I was able to prove to myself that I am capable and worthy of achieving the dreams and goals that I set for myself.
Walking into that Royal Albert Hall was a breath-taking moment for me and my family. For me, what became the icing on the cake, was when my mum turned to me and said in Yoruba "It is your children that allow you to enter higher rooms that you wouldn't have normally entered into by yourself."  For my mum, whose highest education was primary school before she left Nigeria and had only ever seen the Royal Albert Hall on TV, it was a surreal moment. This graduation became a testament to the sacrifices she made for us, to be where we are today.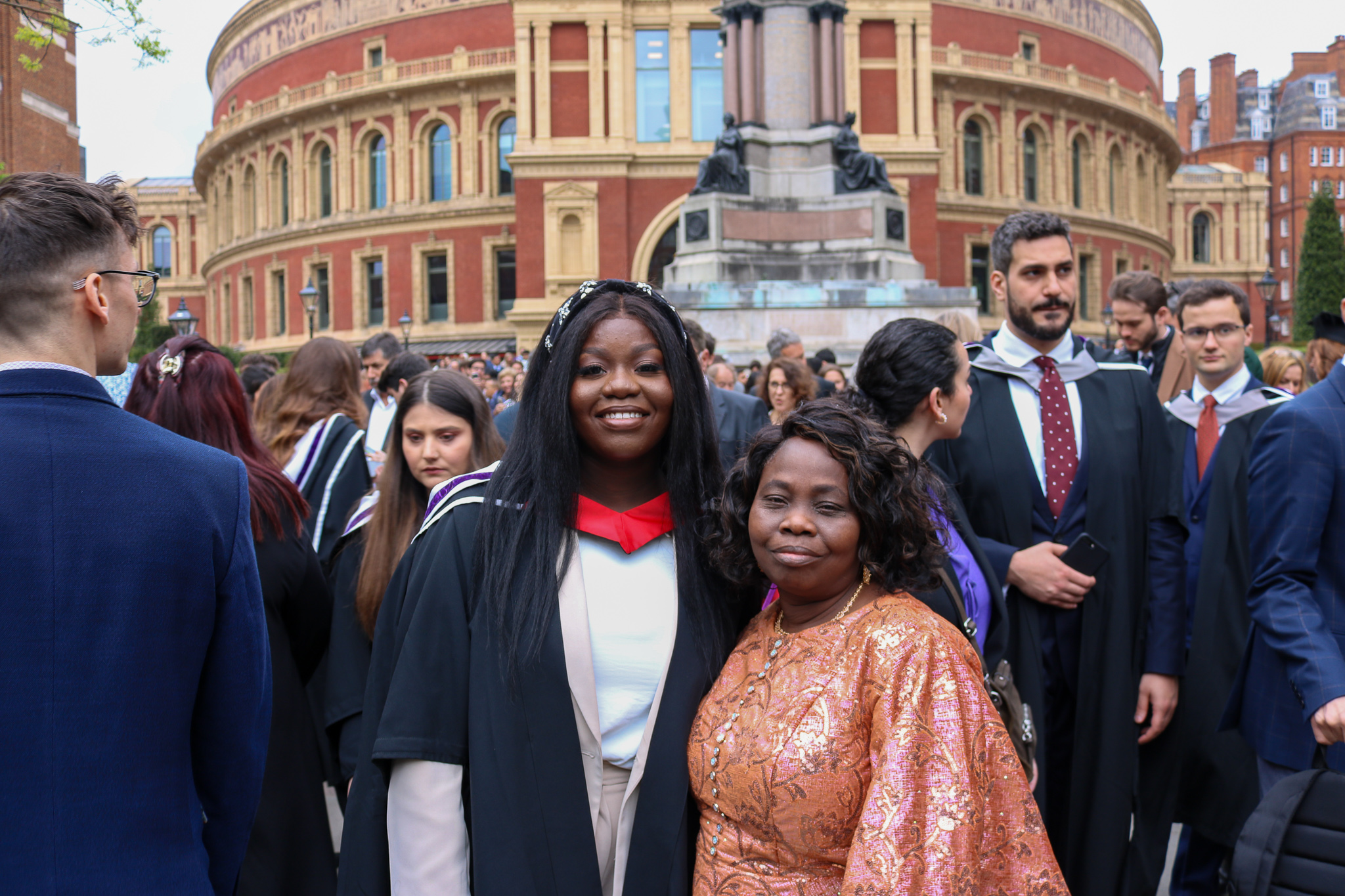 If I were asked, what was the greatest thing I learned during that year, it would be that your dreams, ambitions and hopes shouldn't be limited by the fear of the unknown. When we dare to engage with the unknown, we break free from the fear that holds on to it.
It is this mindset that I will carry forward when embarking on my dream of completing a PhD one day.
Jasmin Adebisi completed the Master of Public Health programme during the Covid-19 pandemic and graduated in the spring of 2022. She now works as a Health Policy Coordinator at Policy Connect, a cross party think tank.