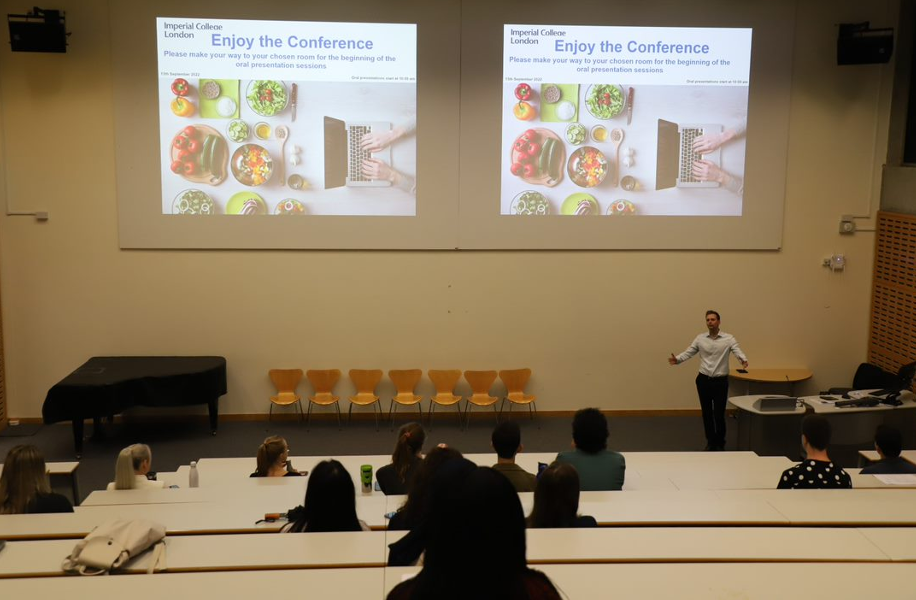 Recognising the value of interdisciplinary learning, Imperial's Food Student Research Network aims to bring together students from across the College's faculties to enable the cross-fertilisation of ideas and research in fields relevant to food. Here, members reflect on the Network's inaugural conference.
In September, Imperial's Food Student Research Network hosted its first Annual Conference. Reflective of the ethos of the network, this conference was an event for students, led by students.
In early 2022, Dr. Aaron Lett was awarded StudentShapers funding to establish the Food Student Research Network – the first student research network established at Imperial College London. The network brings together students from across the college working in fields related to food, including students from the faculties of Engineering, Medicine, Natural Sciences and the Business School, with a representative Student Network Manager within each faculty. This was the first conference that the Food Student Research Network at Imperial had hosted, and it provided the perfect opportunity for students to remove themselves from the silos of their research groups, and engage in networking, collaboration, and cross-disciplinary learning with other students across the College.
Student network managers and Imperial students were central to hosting this conference – a unique and eminent opportunity during the early stages of their careers. The conference involved oral presentations from over 20 student researchers, and  over  23 poster presentations. As well as presenting their research, students had the opportunity to chair and host oral presentation sessions valuable to their professional development. The conference chairing committee was formed by PhD students (Tom Kitto, Costas Elezoglou, Alexa Segal, Layla Malouf, Agklinta Kiosia, and Petya Atanasova) and was supported by academic staff (Professor Gary Frost, Dr. Ed Chambers, Dr. Aaron Lett, Dr. Dimitrios Bikos, Dr. Josh Johnson, and Dr. Mario Martinez-Jimenez).
The conference was a one day in-person event, attended by over 65 student researchers across the College, and hosted in the Sir Alexander Fleming Building, South Kensington. Feedback from attendees has been overwhelmingly positive, highlighting the value of the student research network and its activities in the enrichment of research student education and development.
Following the conference, we caught up with the Student Network Managers of the Faculty of Engineering, Natural Sciences and the Business School, to hear their insights from the conference.
Costas Elezoglou, PhD student and Student Network Manager in the Faculty of Engineering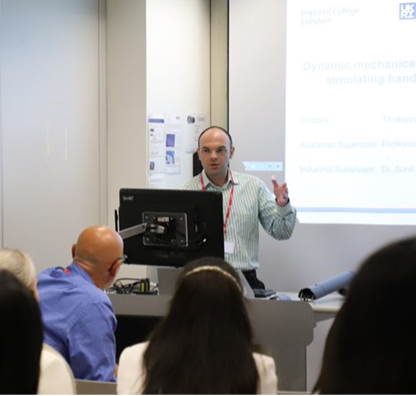 Being a member of the conference organising committee was a unique and valuable experience. I saw first-hand the effort and challenges that such a responsibility involves. I led the poster sessions, and this helped me to realise and appreciate the processes needed to facilitate such an event.
Delegates from different scientific backgrounds such as natural sciences, medicine and engineering presented fascinating posters of high quality. It was very exciting to witness a vibrant session with presenters discussing and exchanging thoughts with attendees about their research. Indeed, it was motivating and inspiring to see such a variety of disciplines come together and the cross-fertilisation of ideas that it allowed.
Giving an oral presentation myself was also a unique experience because I had to take into consideration that the audience came from a wide range of disciplines. I therefore had to communicate my engineering-oriented research in an appropriate way. Answering questions at the end of my presentation was equally challenging but I was very happy to receive several queries from non-engineers. The effort to analyse and present my research to a non-expert audience helped me to see my goals and results from another perspective and consider possible associations, effects and links to the research of others.
All in all, co-organising such a multidisciplinary conference was invaluable because as well as helping to further develop my organisational, communication and time management skills, it also allowed me to reflect on the fact that food research is highly interdisciplinary. With this, I look forward to continuing my role as Student Network Manager for the Faculty of Engineering.
Tom Kitto, PhD student and Student Network Manager for the Faculty of Natural Sciences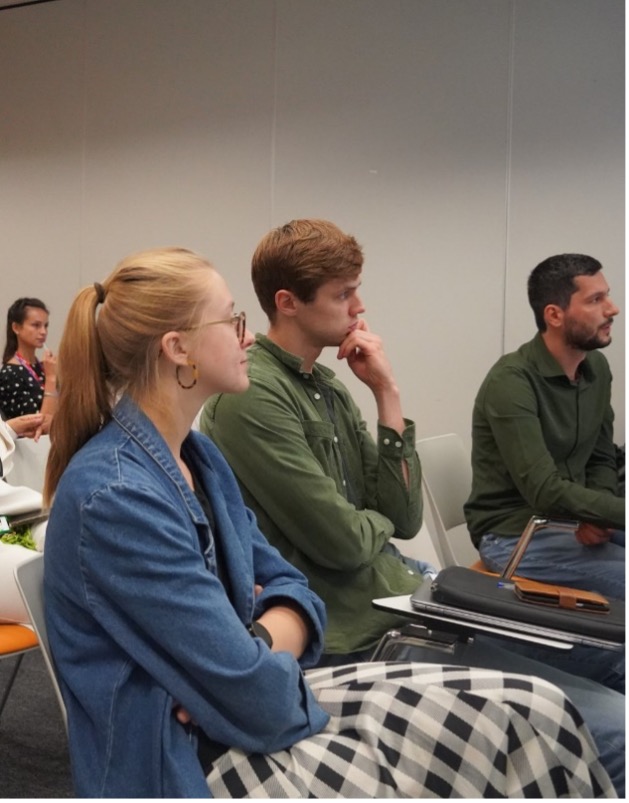 As a PhD student who started during the COVID-19 pandemic, I'd had few opportunities to attend conferences, let alone organise them. However, jumping into this network's committee opened my eyes to the volume of work that goes into one.
My primary role was to manage the oral presentations. Somewhat surprisingly, my greatest challenge quickly became establishing themes for each talk session. It was key to the Food Network that the links between departmental research were highlighted – it took creativity to associate 'The growth of Genetically Modified Crops in Africa' (Natural Sciences) with 'Detecting Enzyme Signatures of Cancer' (Medicine)! In some cases, themes such as health and government policy were easy to establish; in others, their contrast reinforced what exactly 'Food and Nutrition Research' could include. The above talks formed one of the most enjoyable sessions.
I was very pleased with the success of the conference and all the positive I especially valued the networking that took place during the conference. I learnt a lot about the opportunities for my own research from other students across the college, who, without the conference, I'd never have met.
Petya Atanasova, PhD student and Student Network Manager for Imperial Business School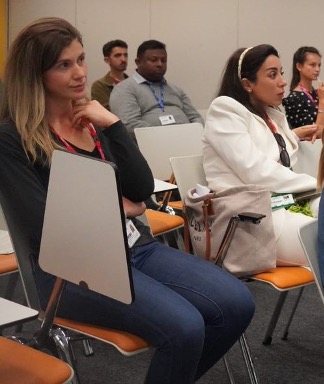 The Annual Conference of the Food Student Research Network was my very first experience of organising and chairing a conference. I certainly found the conference very useful for my professional development at this early stage of my scientific career.
The opportunity to chair in an oral presentation session was particularly exciting for me as it encouraged me to be more confident, assertive and to take a leading role in ensuring effective participation and discussion. Given the cross-disciplinary nature of the conference, it could become very difficult to find a common ground for discussion. This was the biggest challenge I faced during chairing as I was not familiar with many of the topics presented. However, knowing that we were all there to share ideas and learn about others' research made me calm, and I felt comfortable asking "silly" questions which, in the eyes of the expert, might seem irrelevant. This taught the importance of being able to present your research in simple and accessible way for everyone.
I have gained a lot from this experience as an organiser and chair, and I am very appreciative to have met some new friends from across the college who share similar interests and passions.
The Food Student Research Network would like to extend thanks to StudentShapers and the Postgraduate Community Fund for enabling this successful and engaging event, which has significantly enriched the research education of students at Imperial.
By Costas Elezoglou, Tom Kitty, Petya Atanasova and Cecilia Dunsterville.