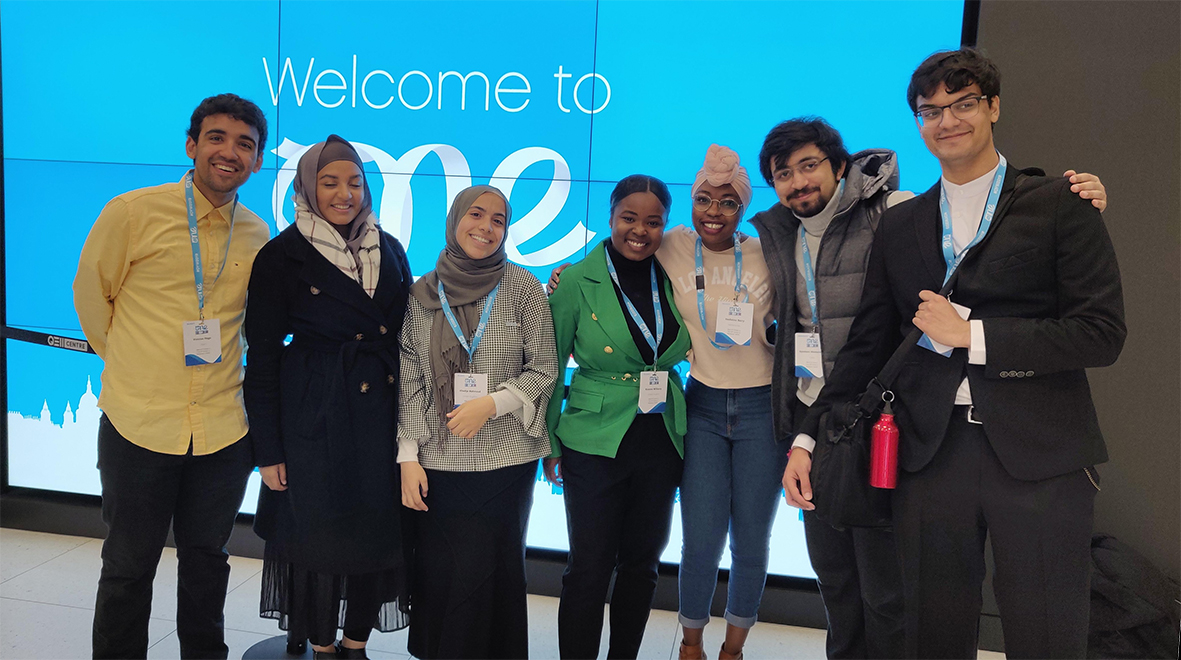 Khadija Mahmoud reflects on the highlights from the past year of medical school – from a virtual reality project that sparked an interest in refugee health to attending One Young World Summit.
---
I never imagined that my medical degree would involve a project working with chemical engineers to study the effects of a virtual reality (VR) application! During the second year of MBBS Medicine at Imperial College School of Medicine, we undertake a three-week research experience called Clinical Research Innovation (CRI).
I worked with our Digital Learning Hub  and the Matar Fluid Group to study the effects of using 3D virtual reality in learning. Our research focused on transforming medical education in classrooms by increasing interactivity. Working with two others, we managed to plan, design and conduct a study of 36 participants, producing a poster to present our findings at Imperial's annual science festival for second-year medical students. The VR application showed fluid dynamics within a liquid flow with real-time feedback and could easily replicate blood flow in an artery to allow exploration of pathologies in relation to this. 
From the classroom to the ward
That summer, I became interested in the potential of transforming the wards and more clinical aspects of medicine. Interacting with patients on the wards daily, we are able to identify problems in managing care, but do we feel equipped to build solutions? The answer is likely no. We notice problems but struggle to execute solutions, or perhaps we cannot even think of solutions yet can certainly see a need for them. 
That's where technology comes in. So I started a coding course to bridge that gap between technology and healthcare as I felt most of our problems today can be resolved by technology.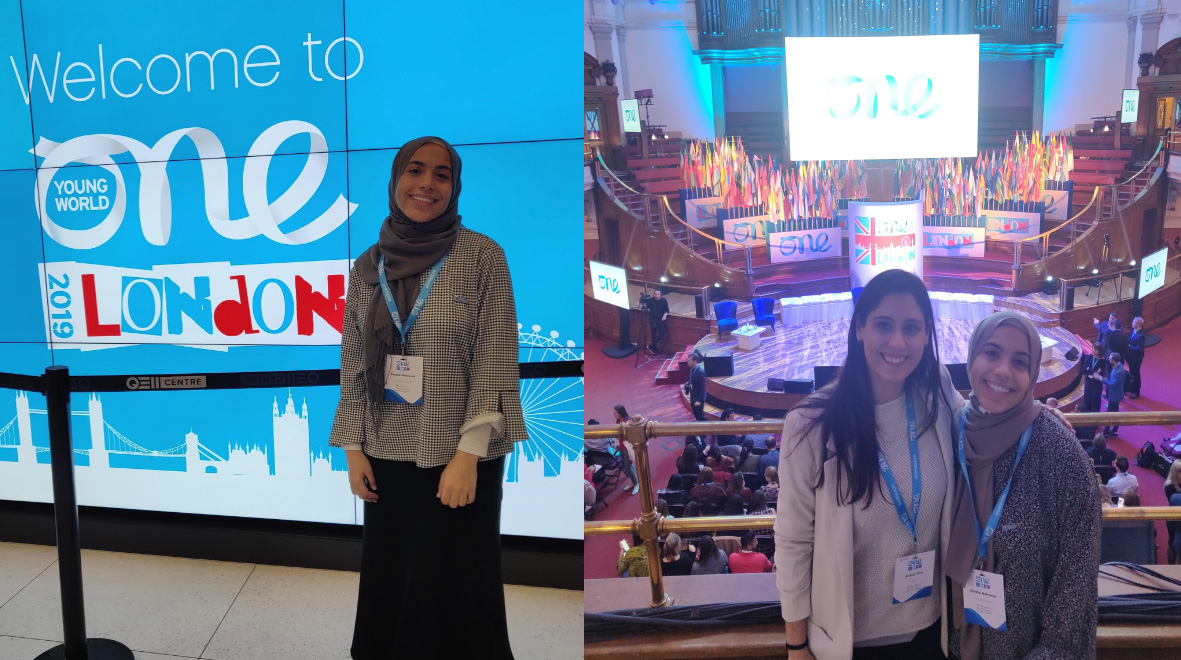 A few weeks later I was delighted to receive an email informing me of a scholarship by a pharmaceutical company Gilead, sponsoring me to attend One Young World Conference in October 2019. This annual summit convenes the 'brightest' young talent globally, to support the acceleration of social impact.
I was invited based on my work with refugees a few summers ago and in volunteering with charities working with vulnerable groups and their access to healthcare. I had founded a branch of a charity called StreetDoctors, which provides first aid to youth at risk of violence where my role involved recruiting and supporting the training of medical students as well as contacting providers (e.g youth centres) to host our sessions locally.
VR and refugee health
Twenty-four years ago, my mother cradled her newborn, sailing off the Libyan shores to Europe – a young asylum seeker. Today, thousands take this journey, but many times more perilous. Today, I find myself inspired to translate my first aid work to a different setting in aid of refugees across Europe, to realise my ambition of giving every young refugee a chance to save a life. I could see that the options were endless, whether we shared this information through an online platform, developed an app or perhaps created a virtual reality of emergency situations. From my study, our results proved VR as an engaging and immersive tool. So hoped to use my recent interests in technology to ensure that refugees across Europe and beyond could access first aid at their very fingertips.
The conference was my opportunity to network with delegates from over 190 countries and attend workshops counselled by influential political, business and humanitarian leaders to help make my vision a reality. My first day began meeting with the Gilead delegates, where I was able to learn more about the work of inspiring individuals who were tackling healthcare issues from around the world. As a student, I was already beginning to learn from others the seemingly endless avenues to pursue in solving healthcare issues locally and globally.
The next day I attended one of the conference's workshops led by AI Foundation, a non-profit working towards using personal data to build AIs for individuals to scale their impact. As delegates we were asked 'if you had your own AI, what would you do with it?'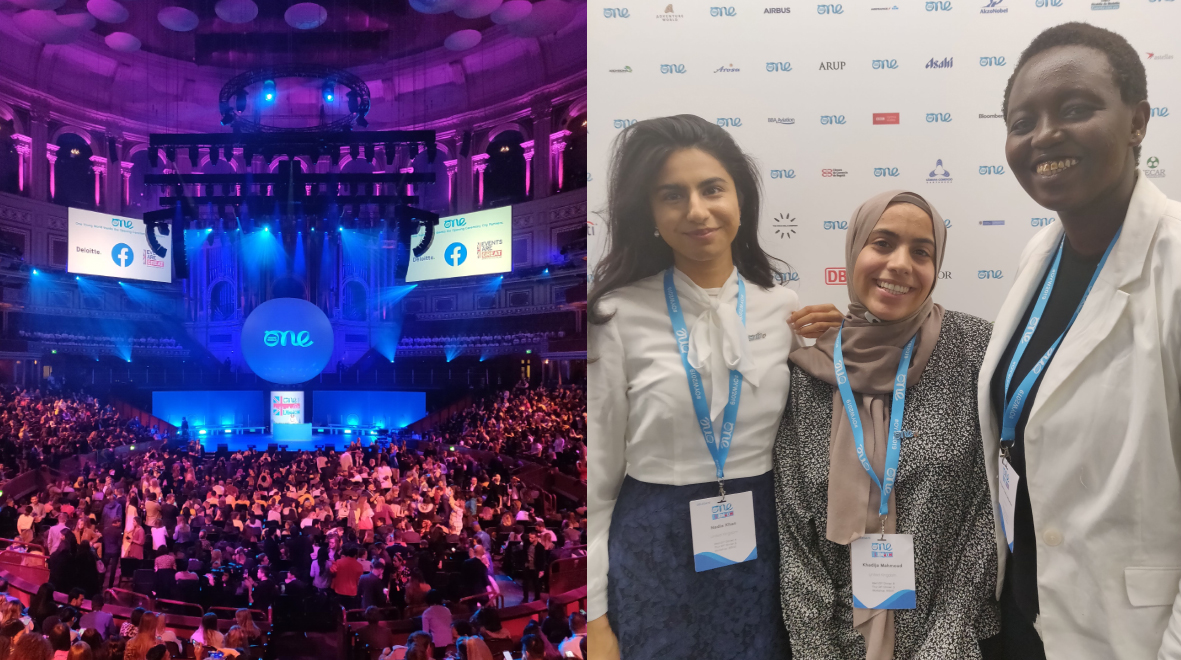 The AI foundation spent a day creating avatars of Richard Branson and two human rights activists which sat displayed on tablet devices, addressing us in an auditorium in central London. We watched the animations of Branson, a Colombian kidnapping survivor and a North Korean refugee have a conversation about democracy and what it means to them, communicating from three separate devices as AI versions of themselves had been created to facilitate this. I was amazed by how far technology has come and easily drawn to how I could use AI myself to create change. I finally understood the words I had heard earlier that day by Twitter founder Biz Stone where personal data was announced as the next 'big deal' after the rise of mass media (e.g. broadcast media) and then social media.
The possibilities of AI are endless
In an ideal world where we can ensure the security of our personal data, AI could be used to facilitate conversation between individuals from across the world. Thinking about refugees, I would create an AI of psychiatrist consultations to facilitate thousands of consults simultaneously with the many refugees suffering from psychological disorders today. All this could be facilitated by building an AI for even one psychiatrist alone who would then be able to converse with millions at once, whilst going about their daily life and seeing their own patients in person from a clinic in London for instance. Or perhaps I would build an AI to teach essential first aid to refugees by qualified instructors elsewhere, engaging in conversation with the learner to mimic a real-life emergency situation. The possibilities of what we could do with AI are truly endless and would enable each of us to have more potential than ever to solve humanity's biggest challenges in addition to leaving meaningful legacies!
Through attending One Young World conference, I was able to connect with young leaders from across the world. In attending workshops and keynote speeches I learnt more about how and where technology can come in to help realise solutions for us. I found myself truly inspired to realise my vision in supporting refugee access to healthcare in addition to other marginalised groups. With technology developing fast, I find that our potential as healthcare professionals is truly being unlocked and as a current undergraduate, I'm beginning to see how my impact on patient care doesn't stop at hospital doors or regional nor national borders, rather its reach can indeed be global. 
What started as my interest in a virtual reality research project for my CRI turned into my motivation to explore how far technology can take us in healthcare and thus saw me graduate from the summit as a one young world ambassador, ready to realise my vision of scaling my impact as a future doctor.
Khadija Mahmoud is a third year medical student at Imperial College School of Medicine.