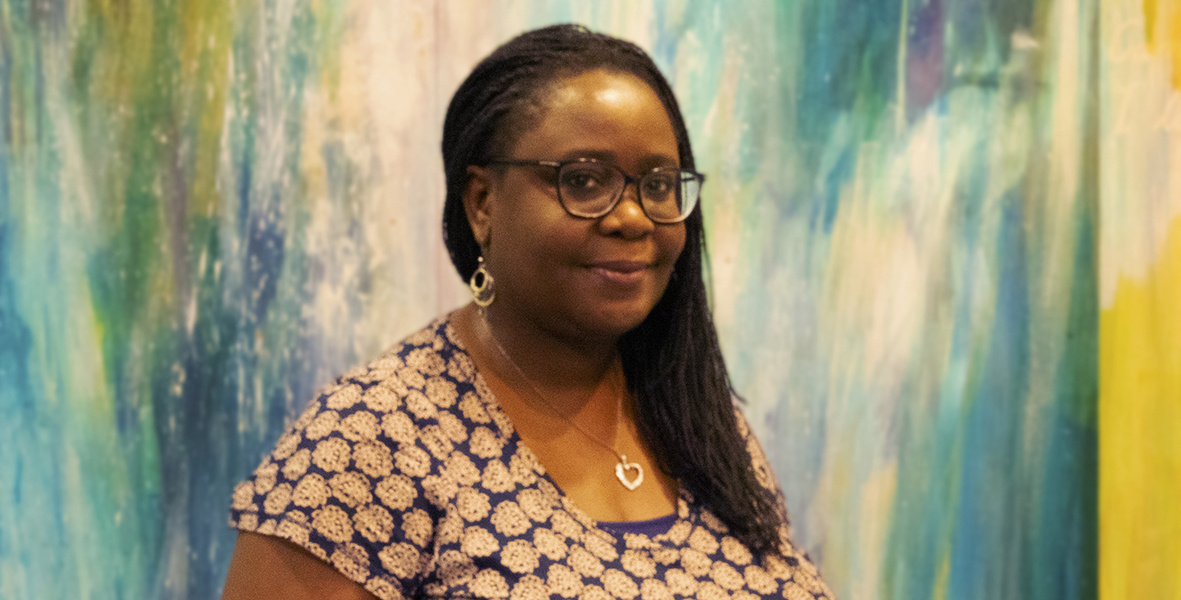 As part of UK Disability History Month, Dr Catherine Kibirige reflects on her mental health journey and how she's using her experiences to help others.
---
My name is Dr Catherine Kibirige and I'm a Research Associate at Imperial, based at the Chelsea and Westminster Hospital.  
I have a mental health disability. It's been a difficult journey accepting this, and this is the first time I've publicly disclosed it. For a long time, I didn't want to believe that I had a "mental illness", or that I was disabled. The funny thing is, once I accepted these things, it's allowed me to do better and to feel more capable than I have done before. Here in the UK, we're currently celebrating Disability History Month. In celebration of this, I wanted to share my story and how the College has helped and supported me.    
Difficult beginnings
For a long time, I've struggled with stress and anxiety. I often struggle specifically with things coming to an end: primary school, secondary school, the end of my first degree – these all ended in major crises. When I finished my PhD, I couldn't cope with the thought of continuing in academia, but I ended up falling into a postdoc position with a US government agency. Despite being unwell throughout the position and trying different treatment options, I actually produced some good work.  This position ended abruptly and unexpectedly due to a funding cut and the only way I could maintain my legal status to remain in the US at short notice was to go back into academia. I had a research idea, quickly wrote up a proposal and got some initial funding to return to my PhD laboratory. 
This was an extremely difficult period as I was still exploring treatment options and was on a new medication. The lab was facing funding difficulties, which meant I was effectively doing four people's jobs, and this meant that I quickly fell into another crisis. I gained a significant amount of weight, ended up on a lot of medication and struggled to find a new doctor and therapist who understood my needs. I was also not receiving any support from my colleagues. My supervisor, who had witnessed my struggles for many years, finally decided that it wasn't really his responsibility to help – at least it seemed that way to me. Things became very uncomfortable for everyone in the laboratory as my health deteriorated. In the end, I didn't get a Green Card to stay in the US, which turned out to be a huge relief to us all. I decided it would be better to return to the UK and take a step back from science. 
When I returned home, I decided that I needed to rethink everything and find a more accommodating career. I worked in various short-term jobs – a daycare centre, a warehouse, McDonald's – just to give myself some time to recover. I also trained as a fitness instructor, because I wanted to do something related to wellness.  Eventually, I joined an agency and got a six-month position as a laboratory technician. It was a simple position extracting RNA from batches of samples.  I ploughed through the samples quickly and easily.  It allowed me to work on a very flexible basis and continue my fitness and wellness training on the side. I realised how much I missed and enjoyed being at the laboratory bench and found out that flexible hours worked very well for me. 
Returning to academia
Before I left the US, I had submitted an abstract and was invited to speak at a conference, which I decided to go to. While I was there, I reconnected with a former colleague who encouraged me to present my work to her colleagues at Imperial. I was invited to present my work here in London and was subsequently offered a temporary position, which I took up when I finished the agency job. I was then encouraged to apply for a post-doctoral position within the same group here at the hospital. 
I felt very torn because in many ways the position was my dream job, and I could see how all of my previous experience had led me to this point. However, on the other hand, I wondered if I was ready to handle it and if I would tip back into poor health.  
I decided to go for it and immediately started encountering quite a few bumps in the road. Even during the job interview, I felt extremely dizzy and overwhelmed because there was so much stress running up to it. Shortly after I started, I ended up being referred to Occupational Health because it became apparent that something might be wrong.  At the same time, I started with a new GP, who – for the first time – gave me a detailed and specific diagnosis, which I was coming to terms with. I started reading about the various policies and resources that were available at Imperial and realised that the College could offer me a lot of support. After talking things through with Occupational Health, I switched to flexible hours and was referred to Confidential Care and some mindfulness groups.  
Turning point
The biggest thing that has helped me has been working flexible hours. I find mornings very difficult, which is why I was doing various odd jobs because I knew getting back into a 9-5 routine would just be too difficult. I realised that working in an academic environment could actually afford me the flexibility I need, and having that officially recognised has been very beneficial.  
My work schedule has also been adjusted so that my meetings take place in the afternoon, as I find mornings very difficult. Some people in my team have found this a bit difficult to get on board with, but my line manager and director have been incredibly supportive in enforcing it. As a result of these conversations, we now also have a trained Mental Health First Aider in our team. 
The support that I've received has been so good for me. I'm now able to conduct research and enjoy what I'm doing; being able to function at work has helped me to build my confidence and get better and better. 
Becoming an advocate
I've realised that I do need to educate people to a certain extent when it comes to mental health. I've had to have some uncomfortable conversations with my colleagues. However, I've also found that, by being more open about my issues, people have felt comfortable to come to me and share that they or someone they're close to is struggling with a mental health problem. I've accepted now that I need to be an advocate, and I'm now in a position where I'm pointing people towards help and resources. I spoke to a friend recently and told her about my experience with Occupational Health, and it inspired her to talk to her workplace's team and to get what she needed.  
I think the more that we can talk and be open about mental health, the more it will prevent people being uncomfortable or awkward in their approach to it. I think it's also very clear to my colleagues that because of the adjustments and help I've received, I'm working much better and contributing, which reinforces the fact that interventions don't just help me as an individual – they help the team and the organisation as a whole, too.  
For anyone else who is going through something similar to what I've experienced: my advice is not to be fearful, and to proactively take the support that you need. Don't be afraid of insisting on the things that work best for you. For me, that was finding a doctor who was supportive of taking a more holistic approach to my care, not just finding a medication that was right for me.   
Remember that there are policies and laws in place to support you. If you act as your own advocate, it will pay off in the end. You need to find what works for you and make space for it. In doing that, you'll probably find that you help a lot more people than just yourself.  
Dr Catherine Kibirige is a Research Associate at Imperial's Department of Infectious Disease, based at the Chelsea and Westminster Hospital.