By Semra Bakkaloglu, Research Associate, SGI
How to Avoid a Climate Disaster: The Solutions We Have and the Breakthroughs We Need by Bill Gates is also a short book (288 pages). Because the majority of respected environmental books have been authored by scientist and social activists, Gates's entrepreneurial approach is intriguing. Despite his lack of expertise on the subject, this book is reader-friendly and accessible to anybody with an interest in the subject. He simplifies the science, explains why and how climate change is occurring, and discusses the importance of achieving a net-zero greenhouse gas emissions goal, as well as how we can do so using existing technology and necessary innovation.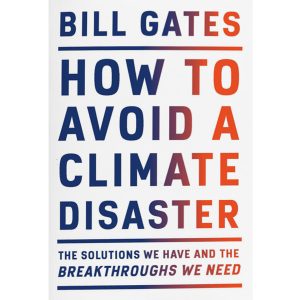 Gates explains how to get zero emissions from the world's annual emissions of 51 billion tonnes of greenhouse gases. He focuses on emissions from five industries: electricity, manufacturing, agriculture, transportation, and heating and cooling systems. In each chapter, he discusses each sector's emissions and various technologies for reducing emissions. Predictably, his book emphasis the carbon-free technology solutions for the energy system to eliminate a greater percentage of our overall emissions. He highlights how important it is to electrify as much human activity as possible. He is concerned that solar panels and wind turbines are not as efficient as nuclear power in the energy sector. Obviously, he supports the world's use of nuclear power in the coming years and encourages investment and technological advancements in that sector. He does not, however, go into detail about the future of hydrogen usage, which the entire world is moving toward. He also avoids addressing waste sector emissions throughout the book, particularly how to deal with nuclear waste when advocating for nuclear power. On the other hand, I think he does a great job in the final chapters of summarising the government's role in combating climate change.
The book didn't teach me much, but I get the impression that its real purpose is to pique the interest of people who have been complacent up to this point. It does provide an exceptionally detailed overview of the potential answers that are worth exploring. I urge that newcomers to climate change read this book. The concepts expressed here by one of the world's most admired billionaires will not disappoint you.