A blog from an event organised by the Grantham Institute and Energy Futures Lab– Imperial College London.

On Friday 26th February 2016, Kamel Ben Naceur, Director for Sustainability, Technology and Outlooks at the International Energy Agency (IEA), came to Imperial College London and presented the main findings of the latest edition of the IEA's flagship publication, the World Energy Outlook 2015.
1.The world's energy scene is changing.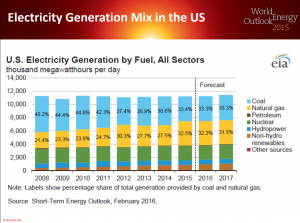 2015 has seen a reduction of price for all fossil fuels and further reduction of investment in upstream oil and gas (24% reduction).
In the balance between supply and demand of oil worldwide, the demand is currently lower than the supply however they should meet again in late 2017. Oil production is expected to grow up to 14 million barrels a day by 2040, with a heavier international reliance on Iraq and the Middle East. In the US power generation sector, coal share has moved from 48.2% (2008) to 33.33% (2016) and its price is expected to remain stable up to 2020. Gas share has instead increased (from 21.4% in 2008 to 32.3% in 2016). At the same time, renewable sources have seen the highest annual addition in 2014 (about 130 GW) and their power capacity is expected to rise by 40% in the timeframe 2014-2020. One of the consequence of all these changes is that global emissions did not rise in 2014.
  2. The green transition is already happening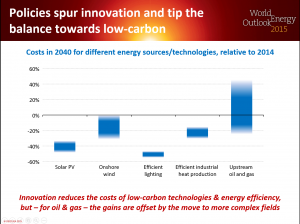 Along with all the changes taking place in the energy market in the past few years, the Paris agreement signed last December represents a milestone towards the decarbonisation of the energy sector. The price of green technologies (land-based wind, distributed PV, utility-scale PV, batteries and LEDs) is decreasing and this trend will continue up to 2040, especially for efficient lighting and solar PV.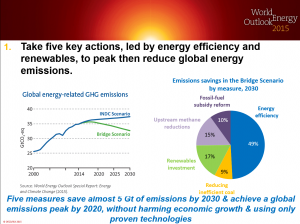 3. The IEA's Bridge Scenario can help reduce carbon emissions, and international cooperation is the key
The policy pillars of the IEA Bridge Scenario include increased energy efficiency, reduced least-efficient coal power, raised renewable investments, reformed fossil-fuel subsidies and reduced upstream methane emissions. Implementing these five actions internationally can help meet the Paris agreement targets.
4. The "well below 2⁰C" target suggested during COP-21 represents a major challenge
The Paris agreement suggests an ambitious target of "well below 2⁰C". This target is therefore more stringent tha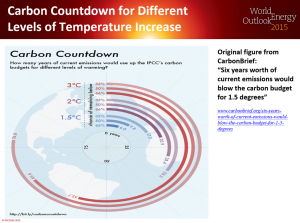 n what was previously suggested in the 2D scenario of IEA. However moving the climate change target from 2⁰C to 1.5⁰C represents a major challenge for the global energy system. This new more stringent target is asking us to take actions in the next 6 to 17 years in order to be met.
For more details on the latest IEA World Energy Outlook, you can take a look at the executive summary.
The slides have been kindly provided by the Grantham Institute – Imperial College London.