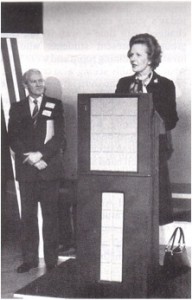 In a previous entry you would have seen the video I made to celebrate the City and Guilds College Centenary in February 1985. As part of the week of events an exhibition was run entitled "Technology 2000". It was opened by Margaret Thatcher -who was then Prime Minister- on 27 February 1985.
Professor Bruce Sayers was then Dean of City and Guilds and made the introduction. This version of the speech is the full version. The one already seen in the C&G centenary video is edited down to fit into a specific duration. Here then is the full, unedited version, from the original 1985 master tape.
Here is the link to the City and Guilds Celebration video on YouTube. Included in that video is the tour Mrs Thatcher took of the exhibition Technology 2000 and shows some of the people she met.
Colin Grimshaw April 2013