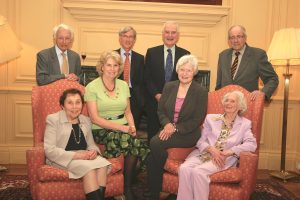 Former Rector (1985-1993) Sir Eric Ash died last year. In 2006 I recorded interviews with all living Rectors. Along with my colleague Anne Barrett from the college archives, we recorded in depth interviews to be used during the following centenary year 2007. Unfortunately, when the centenary year arrived communications used only extremely brief clips from all of the recordings. The interview with Eric Ash was around 50mins in total, but just 3mins 27secs was used. I did provide a different clip that ran 2mins 16secs when Imperial announced his passing, but now we can see the full length 47 min recording.
I have now edited together the full interview, which I recorded incidently in the old videoconferencing suite. You will hear Anne Barrett asking the questions and keeping the recording session flowing along.
In the above photo you can see all of the Rectors that we interviewed. Across the top: Sir Eric Ash, Sir Richard Sykes, Lord Ron Oxburgh and Lord Brian Flowers, along with their wives sitting below.
Colin Grimshaw 1 January 2022