How was Christmas celebrated around Imperial College in years past? Very little remains in terms of records and archives of what happened or indeed what the campus actually looked like. We do have a glimpse of what people saw through the lens of STOIC and via the videotapes that remain. For the weeks leading up to Christmas of 1981 it was a time to announce that this particular year was the first that STOIC would be in full colour (better late than never). What better way for them to celebrate this, than to 'make festive' their very own logo. If anyone remembers the original BBC One moving logo, then this Imperial College version by its students gives a feel from the period. This only exists because it was archived on videotape and has remained unseen for these nearly 40 years. Interestingly, this would not now be possible to make. The shot was taken from the TV Studio window and that's Mech Eng in the background. The Faculty Building would now block the entire view and besides, the college closed the studio anyway! The trees (now gone) of Dalby Court had genuine snow on them back in December 1981, so this gave a festive feel for a few days at least. The TV monitors in the Junior Common Room, Southside, Union and Weeks Hall all displayed "Christmas in Colour" prior to, and after STOIC's transmissions on Tuesdays and Thursdays at 1pm and 6pm.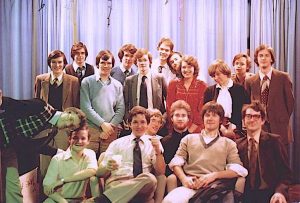 STOIC's Christmas 1981 didn't end with just this logo. They were prompted to replicate Blue Peters very own Advent Crown. But don't worry, this was far from being sensible and indeed is typical of "silly" students at their best. Martin Cowan was the main leader of silliness that year and he's emailed me to say that he has fond memories of his time at Imperial. A lot of effort was put into this sequence including shots outside around the Queens Tower and in (what was) the workshop area of the college TV Studio on the main campus walkway. Even at the end of the programme there were still laughs to be had from the presenters. Oh well it was Christmas I guess and a time when we still had a Rector! The picture of the Christmas studio crew was taken at the end of the 1981 recording. Sadly though, two of that crew pictured here have since died, but their contributions can still be seen today in the saved STOIC videotape and film archive.
And finally, something a little different. Martin Cowan was also involved in a music group called SSIK. The last video we're going to see was their contribution to the Christmas programme. In a somewhat complicated and psychedelic production that they filmed all around Imperial. Can you spot the obvious Albert Memorial and steps leading to the Albert Hall? Also. eagle-eyed might also spot the sequence from the top of the Union Building along with some interior corridor shots too. The editing was very involved when they were trying to match-up the music track to what had been shot outside. I was asked to help on the editing and to also add the colourising, and we might have gone a little over the top with that perhaps? Anyway, it's a bit unusual and something to cheer us all up these 40 years later with various UK restrictions in place (Covid-19).
Merry Christmas and a Happy New Year and let's hope it will be a better year in 2021.
Colin Grimshaw 16 December 2020