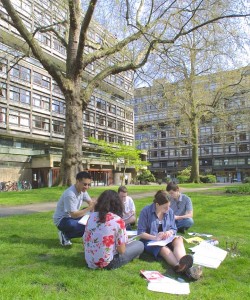 30 years ago, in 1993, an attempt was made at the production of an (ideally) ongoing video prospectus, one for undergraduates and one for postgraduates.
Unusually for a student recruitment piece, these were conceived by the then Rector's wife, Clare Ash and produced by her daughter Jenny (who was working in TV production) – effectively making two videos in parallel using a great number of the same shoots in both.  Without more involvement from the departments and central services, the videos perhaps didn't capture the imagination of academics or administrators.
Probably ahead of its time, the project didn't have the required support from the offices handling recruitment and PR and it didn't continue – but they do capture the spirit and feel of the College some thirty years ago.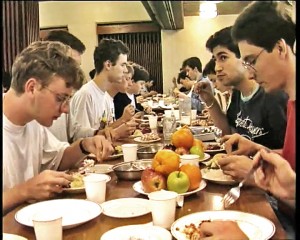 Undergraduate Video:
If you look at this, see the graphics and say "What?", then you'll know my thoughts, both then, and even now, some thirty years on! There are great shots of the old language lab and Richard Dickins with the college orchestra, both of these showing the non science side of Imperial. Once more we have some (now) important archive shots of Prince's Gardens and the old halls, especially Linstead Hall showing the famous evening meal (photo on right). This was the only time this was recorded and is special for that reason. We also featured IC Radio, STOIC and Felix in production for that weeks edition. And finally we have the first ever video shots of a Commemoration Day at the Royal Albert Hall.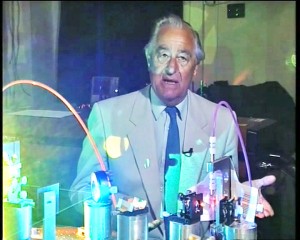 Postgraduate Video:
In general this will look more or less the same as the undergraduate version, but includes some now unique shots of Lord George Porter working in his lab in the basement of the Beit Building (photo on left). We also ventured out to Silwood Park to show some research work going on there. At this time the Science Communication course had started and we almost featured ourselves by showing two of the students working at our editing suite (even though this was of course staged). Finally a great and short-lived hall is featured. Does anyone remember the Postgraduate only Montpelier Hall in Montpelier Street, almost within sight of Harrods? Well, that's in here too towards the end of the video.
Its such a shame that neither of these videos were appreciated within the college because a massive amount of time and effort went into making them both. We used about 12 or more one-hour video cassettes for the 'rushes' and because they contain some very unique material such as George Porter I still have them today in our video archive. See what you think and let me know if you are seen appearing in either of them. Some years after we had made them, several boxes of unused and unrequired VHS tape copies of both of the videos were returned to me from Registry, they were all thrown in the bin!
Colin Grimshaw October 2023