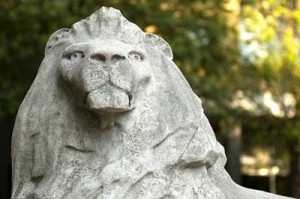 In one way or another, ever since we've had the use of video as a medium we have used it to promote things. You will have already seen in other posts the promotion of specific research projects or research groups and so on. But we're going to start another series that shows how we've tried to promote the college as a whole. I'll also mention that we'll see how individual departments have tried this too, examples being: Chemistry, Civil Engineering and the Management School (now Business School), so watch out for those blog entries coming sometime soon.
To coincide with the 1985 centenary of the City and Guilds College an impressive exhibition was put on in the Junior Common Room in the Sherfield Building. Although this was primarily research work, schools were invited and special lectures and tours were held, Therefore, very large numbers of school children were going to visit the college  and there was, of course, huge possibilities for student recruitment. So, two promotional videos were (initially) commissioned to promote the college to school children and to potential postgraduates. This was also the first time that moving aerial footage was taken of both the South Kensington and Silwood campuses. The only unfortunate thing was that the footage was shot in January and we'd just had a downfall of snow, so the campuses don't look too inviting!
The undergraduate promotion video was called "Studying for the Future" and shows all of the usual things to excite potential undergrads. Once again, the nice thing about this and the other videos, is the wonderful record of college life. Also, the campus as it then was, is recorded with the current students and staff going about their daily lives. I wonder how many alumni might actually spot themselves in some of the shots?
A second video was made at the same time. This was to show the research work and activies going on at Imperial and was entitled "Discovering the Future". I hope you've spotted the trend with these titles of the videos all following a certain style with the "….the Future"? A large proportion of this second video was also seen in the video made for undergraduates. The theme used was of a 'research file' concept and when you see the video you'll understand what I mean. And, can those former Blue Peter TV programme viewers spot Valerie Singleton doing the voiceover in this second video?
Next time I'll show you a third video for those considering taking a masters degree. Can you guess what the title might be?
Colin Grimshaw March 2010