During my time of writing this blog I have either discovered or rediscovered many items that are now considered unique. Most of the items are maintained on videotape, some on film and a few (very few) on audio tape. The archive that I created when the College TV Studio started is limited in its range. This is because of the nature of how we worked and how jobs were created and importantly who commissioned them. We were not able to simply go off and record what we thought might be nice and therefore create a stockpile of unwanted items. We had to wait for someone in college to request a job and ultimately book and pay for it.
STOIC, the Student TV Service did not have this problem. Everything, and almost anything, was fair game for them to record and to then be used in their weekly news-magazine programmes, either TOPIC, Lunchbreak or News-Break. As discussed in other blogs, in 2009 I was able to save the entire STOIC videotape archive from being put into a skip during major rebuilding work in the basement of the Students Union building.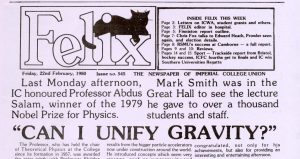 When I was digitising a tape from their News-Break series I spotted something in the programme running order that jumped out at me. Item 7 "Prof Salam – Physics Lecture". I realised immediately that this was Abdus Salam our 1979 Nobel Prize winner from our Physics Department. I recalled that I had looked before to see if either I had recorded anything of him or whether there was anything in the college archives – there was nothing. This then had to be important and potentially THE only recording that Imperial had and indeed it turned out (so far) to be the case.
Sadly this segment of Abdus Salam is brief, some 44 seconds remain. It was his lecture that took place in the college's Great Hall in the Sherfield Building on 18 February 1980. Not only did STOIC cover the event but so did Felix and splashed it over their 22 February 1980 front cover with the headline of "Can I unify Gravity?". The clip you'll see includes the original studio introduction to the news item by David Ghani one of STOIC's regular presenters on News-Break.
Colin Grimshaw February 2022