The one big disadvantage with videotape is that it can be erased. All too often a recording is considered of no further use and the tape is either thrown away or erased and re-used. But back in the early 1960's and 1970's it was cost that was the concerning factor. I recall that the first open reels of Ampex one-inch tape that we used cost around £30 each at that time, something more like £300 in today's money. So, there was a desire to save money and therefore reuse old tapes again. Recently, I remembered that I had some audio tapes that I'd made from the sound tracks of various programmes and that these programmes had long since been erased.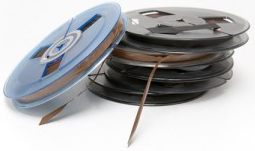 So, I collected them all together and took out one of my faithful old reel-to-reel tape recorders sitting at home. What did I have and was there anything of interest? Well yes, very much so, it turns out. I had a few sound tracks of videos made with the student TV service STOIC for example. Always a good source of college history I listened to what the content was and to whether there might be a gem or two. On a live Christmas 1971 edition of their first news magazine programme TOPIC, I found interviews with Lord Penney (then Rector) about the recent 1971 NUS "Day of action". This now takes the number of recordings we have of him from 4 to 5 and will be placed into the college archives. We'll be seeing that programme, in 'recreated' form, in the next Seen and Gone number 2.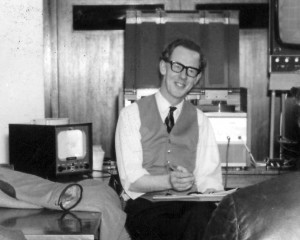 I also found a soundtrack to a series of programmes I made with Sinclair Goodlad. One of these programmes, which is a May 1972 interview with the very first student counsellor, still exists on the original one-inch videotape, although it has never been transferred to any modern format so at present we're unable see it. The photo of Sinclair is from 1967 and was taken during one of his "20 minute talk" sessions he ran on Wednesday afternoons in Electrical Engineering. Behind him can be seen our very first videotape recorder, an enormous machine made by Philips and full of very hot valves.
A nice piece of timing in my discoveries was an interview with Lord and Lady Flowers. This was recorded after one of their famous Beer and Bangers parties held in their flat at 170 Queen's Gate. On the 20th October 1976 James Sinclair from STOIC went along with the portable videorecorder kit to ask a few questions about why the event takes place. It's a pity that no photos were taken at the time.
Felix is the student union newspaper with its first edition dating from December 1949. The editor at the time of this next interview was Clive Dewey. There is mention of a colour edition and I think he was the first editor to achieve this. I recall Clive doing some things with STOIC as did another former Felix editor Mike Williams. Again James Sinclair is the interviewer in this 7th October 1976 recording.
Next time you'll get to hear, (or is that see?) the 1971 Christmas edition of Topic, with some special surprises after 40 years of being lost….
Colin Grimshaw July 2010