So now we come to the second Seen and Gone and this is when we get to see something interesting (and yes I do mean see). In December 1971 STOIC showed their Christmas edition of the then regular news programme Topic. I'll try to recall the background to this programme if my memory serves me well!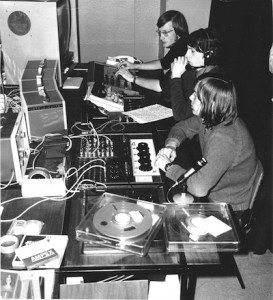 Although by this time we had two videotape recorders in the studio, the programme was shown live to the JCR (Junior Common room), whilst the recorders were used to replay some inserts into the programme (maybe one did also record I can't remember). At this time it was still not possible to easily record items outside of the studio so some cunning ideas came into use. To enable STOIC to capture external events an 8mm cine camera was used. The footage was then edited together and a simple background audio track of, for example, street noise, was created to play in the background. These inserts were then run into the live programme whilst one of the presenters did a voiceover. In later years a magnetic sound stripe was added to the film to allow sound to be pre-recorded in synch. Things didn't always go to plan however, the splices in the film sometimes broke during projection or whilst being made ready to be shown. On one occasion a splice broke on the film that was going onto the take-up reel, the easiest thing to do at the time was to ignore it and therefore the film simply spooled directly onto the control room floor in a large pile. This edition of Topic was a good example of where things could and did go wrong. You'll hear two situations where something happened and the presenter is called on the phone from the control and asked to 'pad' until it's resolved. I thought it was fun if I left those in what you'll be hearing.
Now, I have called this Seen and Gone, but that's not strictly true in this case. When I found the audio recording I remembered several spools of 8mm film. These are the original films used to insert into the programmes until portable video became available. They have sat there for 40 years waiting to be seen again. However the videos which they appeared in have long gone. But, in this case I had the soundtrack! So, what you are about to see is the recreation of a lost programme from 40 years ago. I remembered too that I had some photos of STOIC setting up and using the studio at Christmas…..bingo, it was THE same programme I had on audio. So, I've been able to use them and the 8mm films to insert at the appropriate places. There does appear to be one film missing and you'll only hear the commentary and background sound effects. I discovered photos of Lord Penney being interviewed and those too are from the same programme.
So, you'll be hearing and/or seeing: Guilds Motor club A-Z rally; NUS day of action; Silly Football in Hyde Park; Morphy Day rowing, the London to Brighton vintage car rally and the Lord Mayor's Show. An interview with Lord Penney (then Rector) was prerecorded and I used the three photos taken at the time of that. Former Union President Piers Corbyn is included and I found a photo taken of that as well.  And there's an added bonus too. Many of the 8mm films were shot with normal Kodak 8mm film stock, so for the first time ever these will be seen in colour. Other items were shot using black and white film. So here is my recreated Christmas Topic from December 1971 with mistakes and technical breakdowns left in.
Colin Grimshaw 2010