In 1997 Professor Bob Spence interviewed Dr Colin Vickery, a colleague of his from the Department of Electrical Engineering. The intention was to show the video during an Alumni event that Colin was unable to attend. I hope that maybe some of those same Alumni will watch that video once more.
Colin Vickery has very kindly sent me some words to put the video into context, so most of this is his hard work and not mine! And Bob Spence has provided me with the excellent photos that were taken at Bob's 80th Birthday celebration in 2013, that I also attended.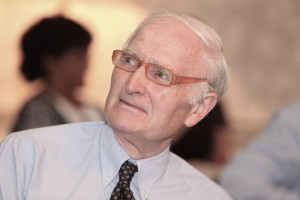 Colin was, at the time of the interview, running a postgraduate section on microprocessor applications.  Bob Spence and Colin Vickery had shared a flat during the time that they were doing PhDs under Roy Boothroyd who was Prof Colin Cherry's Reader. Colin Vickery had come back from industry where he'd spent a couple of years with the Plessey company working in a small research unit in Romsey and was appointed as a lecturer for a period, working for Cherry/Boothroyd and was then invited to join Prof Bruce Sayers in his Engineering in Medicine section where he stayed for many more years. Prior to this, he'd travelled to Houston, USA, where he joined a summer school which was run for a mixture of Medical and Engineering people. There he learned basic physiology, while the medical people learned basic electrical engineering.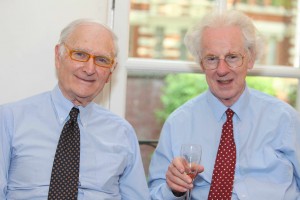 Eventually, Bruce Sayers became Head of Electrical Engineering and Colin was given a postgraduate section devoted to microprocessor applications, working alongside colleagues Dick Wilde and Bill Cutler who were both on his staff. After a year or two they were appointed as consultants on the government Mapcon scheme (Microprocessor application consultants) and did a variety of feasibility and implementation studies including small hydroelectric projects, such as Wookey Hole and Chatsworth House in Derbyshire. He joined with Prof Anderson in a project, for a firm in Horsham, de-boning bacon backs using robotics. It was exhibited in the exhibition at the college in 1985 (City and Guilds Tech2000) which Margaret Thatcher opened and then toured; telling them all that, '..she knew all about bacon' (her Father was a grocer)!
In June 1998, a year after this interview, he suffered a stroke, but continued to work for the college part time until 2010 when he was 75 years old. This interview is a reminder of those times now long past and some of the people that made up the college in the 1950's and onwards.
Colin Grimshaw September 2014