You may be aware that a renaming of Mechanical Engineering has just taken place. The new 1960's building, located on Exhibition Road, has just been renamed The City and Guilds Building.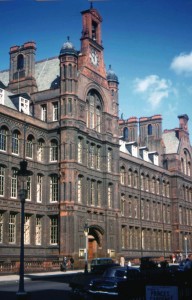 Pre 1960 Alumni will recall the original building, the foundation stone of which was laid in 1881. Previous blogs about City and Guilds recalls the history and includes a brief section of a 16mm colour film made in 1960. Here, I am showing for the first time the full unedited version. It's silent and was intended to show the 'old and new' developments as the original building was slowly pulled down and the new building created behind it (hence the setback of the Mechanical Engineering Building from the roadway).
The film also shows the only record we have of Sir Owen Saunders (then Dean of City and Guilds 1955-1964 and also acting Rector 1966-1967). This is a unique piece of Imperial College history and the only film we have of the old buildings. The fact that it's in colour is a added bonus.
Colin Grimshaw September 2013