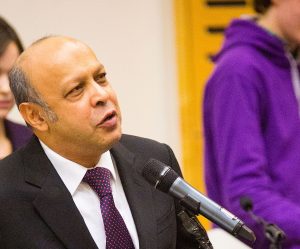 Who would have thought that this first appearance on TV at Imperial College would lead to a career on the BBC? Yes, it's Pallab Ghosh now Science Correspondent for BBC News. Pallab studied Physics at Imperial which was probably a good all-rounder for what came next.
But before his BBC career he was the editor of the student newspaper Felix. I do have the videotape of his Felix Editor Hustings Speech from 3 March 1983 (we'll see that soon). Prior to that though, he was the chairman of the Imperial College HG Wells Society. Back in 1981, he was speaking to STOIC's Martin Cowen about the revival of the society and what was planned in the coming months, including a potential Loch Ness Monster expedition!
The photo above shows Pallab during a visit to Imperial College in 2014.
Colin Grimshaw May 2020