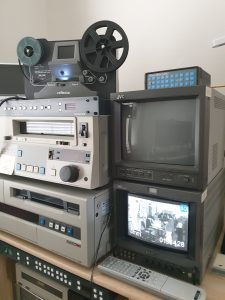 Recently I've been digitising, in HD, my personal collection of 8mm home movies. Now that those are all transferred, I've moved onto a large collection of 8mm films from STOIC's archive. Why did STOIC have 8mm films? Well, back in the early 1970's there was no easy way to record anything outside of the TV Studio, so film was the only option. For the early news programme TOPIC, 8mm was shot and developed by STOIC. They bought all of the kit that was needed to process and 'reverse' the film from negative to positive. This film was then edited and used within the next edition of their news programme. In some cases, it was easier for them to use normal film to shoot what they needed, and to then let Kodak process the film. And in these cases the film was colour, even though it was only ever seen in black and white.
I made an amazing discovery too. There is a spool of 'home processed' film for the Easter edition of TOPIC from 23 March 1972. That seemed familiar to me and so I dug deep into my collection of audio tapes and discovered I had the sound track to the actual programme. I was then able to sync-up the studio commentary from the (now erased) programme soundtrack, to recreate what would have been seen some 50 years ago. But this was not without difficulties that I thought I would never solve.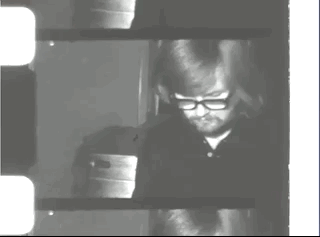 Once STOIC had processed the film it ended up as a 16mm spool that needed to be split down the middle to produce 2x8mm film. A spool of 25 feet of 16mm ended up as 50 feet of 2x8mm. However, splitting the film needed to be done accurately. My 8mm digitiser is very fussy about accuracy of film size and the STOIC film certainly wasn't accurate. I discovered that at certain points, the film stopped and seemed to jam in the gate mechanism. Upon closer inspection with a magnifying glass I spotted that the film was going wide to less wide, then back to normal and so on. When it got extra wide it jammed and then released again. The end result is seen above, with the film frame going up and down with the changing of the film width. Look at the extreme right hand side to see the film edge getting wider and then narrower again.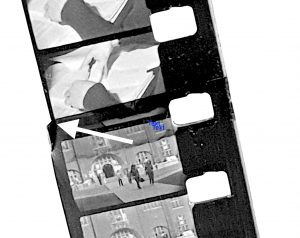 And, when a film splice happened, it could easily go from normal width to extra wide width, as indicated by the arrow in this photo. I had to redo most of the original splices in the film and cheat to make the transition slightly less bad. However, the end result still had the frame moving up and down at different times. But, I discovered a solution. During digital editing I tried 'tracking' and stabilisation. Tracking allows a specific point of reference to be used to keep an image where you want it. So, I under-scanned the film to see the sprocket holes and for them to be used as my key reference point. A few minutes later and I had a workable end result. I synced my soundtrack, as best I could, cleaned up the image and we now have for the first time in 50 years the film inserts for TOPIC as they were seen in the programme.
Here then are the two film inserts used in the programme after I've managed to digitally stabilise and correct them. The first is a report by Richard Woodhead on the March 1972 Student Union Elections. Note that the commentary was made live in the studio as the film ran, so does not sync perfectly to what is being seen. Also, there are big gaps where nothing is said and this was intentional, other than some taped background noise. This programme was only ever seen ONCE, on 23 March 1972.
The second and final film is a comedy sequence apparently shot in the Union Building Heating Tunnels. You'll notice that there is a slight delay and confusion in the film sound starting, but can eventually be heard. This background music was played in live, from audio tape, and clearly there was an initial technical hitch which delayed the start.
And, things just keep being found. With another reel of tape I've discovered a piece of paper that listed the original background sound and music for both of these films. Indeed that was correct, so I now also have the tape that was run live at the time behind the studio commentary. And there's more to come…
Colin Grimshaw August 2020