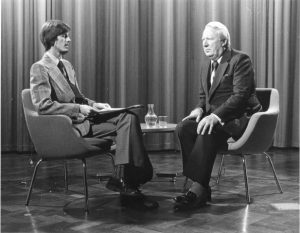 On the 4th March 1980 Edward Heath (1916-2005) former UK Prime Minster, visited Imperial College. Later to become Sir Edward Heath, he was born 100 years ago today, July 9, 1916.
He spoke at Imperial to around 350 students in the Physics main lecture theatre. Mr Heath spoke at great length on the future economic policy of the world and the problems facing Third World developing countries as well as the developed ones.
Here, he is speaking very briefly with Mike Prosser (photo above) in the former college TV studio in electrical engineering. Once more we have a very old videotape recording from 36 years ago and it needed some tweaking to get a good picture and in particular, better colour. I am however rather pleased at how well it transferred to digital.
Colin Grimshaw July 2016