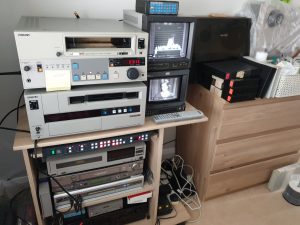 We will be having some newly discovered items coming up in future blogs. I'm now slowly working my way through many boxes of videotapes from the extensive archive of STOIC and digitising then. If you recall, I managed to save these from being trashed many years ago when STOIC had to clear out their space for rebuilding. If I hadn't had the college archives take the lot, then they would, by now, have been recycled!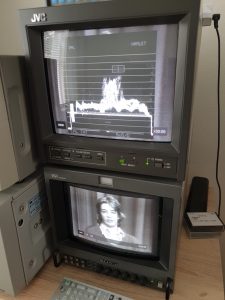 Why is this collection important to Imperial? Well, in the TV Studio we had a specific remit and that was to record what was required for teaching, promotion and so on. All of these jobs created income for the studio and we could not just go off and record what we wanted to, without someone paying for it. However, STOIC could and indeed did just that. Therefore, in their archive we have interviews with not just students but with people like Rectors, Admin Staff, College Secretaries, Professors and so on. These, in some cases, are unique and now invaluable to us.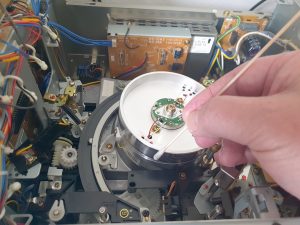 At present I am digitising a U-matic videotape that has a 40 year old recording of the then Student Union President Chris Fox (seen on the screen above). On the 15 March 1979 live on STOIC, from the college TV Studio, he chatted to Paul Johnson. I'll be showing that in the next blog. Getting these videotapes to play back is not always that easy. Tapes are showing their age and tend to shed oxide and clog the video heads. This then requires the lid to be taken off the machine and the heads and guides, cleaned (photo on right).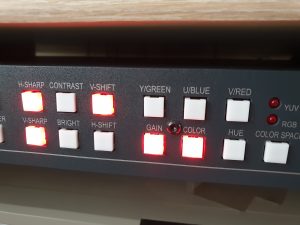 Once the tape will play back from start to finish it's then time to adjust the video levels before capturing onto hard drive and finally onto DVD. When these tapes were made, the cameras were within a category called 'industrial' and sometimes 'educational'. They had pick-up tubes, not chips, as in these days. Lighting was basic and sometimes crude. Our ability to adjust these cameras individually was limited to say the least. Therefore, when replaying these tapes here in 2019 I have to almost 'ride' the video signal and adjust it, as the cameras switch around on the recording.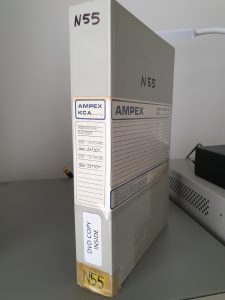 The final DVD then resides in the tape box and the side marked accordingly. That will mean (hopefully) that even if the tape can't be played back in the future the DVD will be. It's worth pointing out that the quality of a DVD is higher than the original videotapes would have ever been. Therefore we have not lost any quality in using this method. And, when the time comes, we can further transcode from the DVD into MP4 for web use. Not only is there a problem with the actual tapes playing back, but even more vital are the machines to play them on. Maintaining these machines is now vital and using them to transfer tapes onto new media is a big task for everyone with a videotape library. For example, the BBC, over many years have done this same process to digitise the whole of its archive, both videotape and film.
Colin Grimshaw June 2019