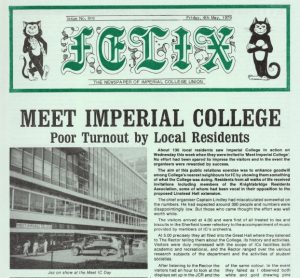 On 2nd May 1979 Imperial College ran a PR exercise for the local residents around the South Kensington campus. The event was called Meet Imperial College. The objective was to inform, update and educate the residents on what the college was doing at that time. The following video is the only record of the event and was shot by the student TV service STOIC. Having said that, I actually shot the video using our newly arrived colour equipment as I wanted us to have a record of the event and to have it shot properly! I'm glad I did that, some 38 years ago, because now we have a chance to see it again. Grant Richmond was the STOIC reporter at the event itself.
FELIX the student newspaper reported the event as:
" The aim of this public relations exercise was to enhance goodwill among College's nearest neighbours for IC by showing them something of what the College was doing. Residents from all walks of life received invitations including members of the Knightsbridge Residents Association, some of whom had been vocal in their opposition to the proposed Linstead Hall extension."
You'll catch a brief glimpse of Eric Laithwaite and his linear motor among the many things on display. Lord Flowers the Rector, put on a brave face and spoke about the number of people who attended! The picture quality is poor. Our colour camera (as mentioned in previous entries) needed loads of light to give good images, however the location in the Sherfield Building lower refectory was dimly lit. The studio shots prior to Grant's location report were with the same camera, but under good studio lighting.
Colin Grimshaw July 2017