Three months after I started this Video Archive Blog I featured STOIC, that was in February 2010. Then, it was a mere 40 years since the Student TV Service had started. But now it's reached the half century. You can of course read the two blogs about STOIC (One and Two) where you'll find videos and lots of photos. So I won't repeat all of those things again. What I will do is to include items that were never featured before and in particular videos discovered in the current digitisation of the STOIC archive.
What better way than to begin with those who started STOIC back in 1970 and continued thereafter. In 1980 it was 10 years since the start of their TV service and the video "Happy Birthday to Us" was made to celebrate and you can see that video in my blog STOIC One (links above). At the anniversary reception, held in the Senior Common Room on 15 February 1980, interviews were recorded with past Chairmen of STOIC including Andy Finney who was really the person who got things off the ground. Asking the questions is Grant Richmond who you will read more from later.
In the blog STOIC One there's a 1971 tour of the Electrical Engineering Department's (level 3) TV Studio, but now we have the tour made in June 1974. This is also a great record of the studio itself which is not captured anywhere else. Mark Caldwell, seen in the birthday video, makes the introduction. It was shot in one go with no editing except for one or two stops and starts between sections (stopping and then restarting the video recorder). It also features my former colleague Steve Bell (on camera one) who is in the next video too!
In January 1974, six months before the above video was made, STOIC pre-recorded an opening sequence for the then news programme TOPIC. Like the studio tour video it was shot in one go. But, regardless of the production quality it has some great shots of the (Elec Eng) TV Studio along with STOIC's very own rotating logo, studio control room and STOIC's RCA 2 inch quad recorder, all now long gone! Steve Bell is heard at the very start announcing the 'take number and then seen with headphones on. You can also see a brief glimpse of STOIC's Sony "rover" camera on a tripod in the studio.
The Electrical Engineering TV Studio as it originally looked when STOIC started in 1970, can be seen in some unique colour film. It shows the original PYE black and white vidicon cameras and studio set-up. I'm seen, blurred in long shot, operating the Ampex One Inch recorder. You can also see the crude video monitors (with me operating the film camera) and the PYE vision mixer.
And finally, some 3 years before STOIC ceased to use what, by then, had become the College TV studio, we have a rediscovered recording, shot behind the scenes. It was recorded in the Control Room on 13 June 1983 during the weekly transmission of Newsbreak. Martin Bolding is on sound and also continuity with Tim Davey on vision mixing.
Earlier I mentioned Grant Richmond who now lives in Cairns, North Queensland, Australia. He had a few comments to make when he looked back at his time studying at Imperial and his involvement with STOIC and its 50 years.
"I would say it is really impressive and reminds me of how much extra-curricular activity there was at Imperial, especially considering such a small on-campus population. My point is how remarkable STOIC was to inform (& entertain?) the student community and I would like to think, staff too. I know technology has changed so anyone with a mobile phone can capture events these days and upload to YouTube, but there is no editorial discipline and it's probably quite hard to get attention. At least with STOIC they had no choice in the JCR at lunchtime! I am most grateful for the opportunity STOIC gave me to participate and to be able to see the record of some of these activities all these years later."
A lot more will be found from my first two blogs featuring STOIC and in particular the "Happy Birthday to Us" video, which more or less tells the whole story of how they started, and indeed ran, until leaving the College TV studio in summer 1986. To end, I have recreated the STOIC logo that I designed and added an updated version of the jingle that has never been heard before. It was on the master tape at 15ips, which was a tape speed that we couldn't run. Now, hopefully, the sound quality will come through at last.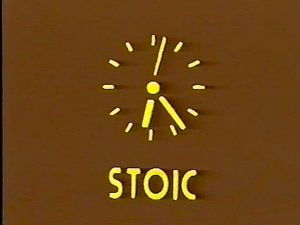 And with the time just after 6:24 STOIC is now closing down……
Colin Grimshaw 17 February 2020 – Happy Birthday to Them