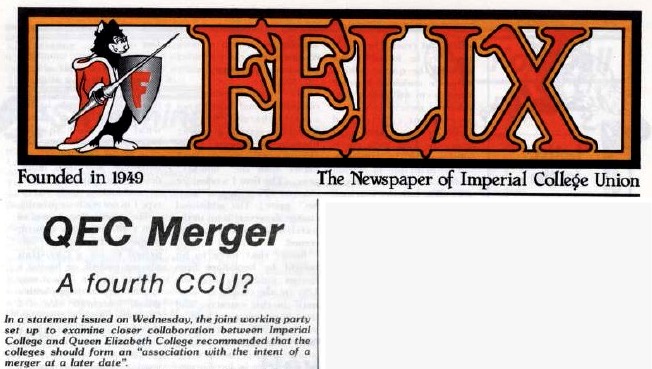 In December 1981 and January 1982 STOIC's news programme had reports on the proposed integration of Queen Elizabeth College in Kensington, INTO Imperial College. The main theme of the proposal was that Q.E.C would have been incorporated into IC as a fourth constituent college.
So, in December 1981 the college statement said; the bioscience part of Q.E.C is proposed to be physically moved to the IC site, which would require a new building (probably on the site next to new Chemistry). The physical sciences at Q.E.C would be "accommodated elsewhere within the university". Joint planning and consultative committees would be set up to achieve a closer working relationship prior to the eventual integration. The timescale of the proposal is approximately five years, but major developments might be expected before that time. The proposal is in response to the problems of finance and student numbers facing London University (that Imperial was then part of). It is not clear however just what financial savings would be made, and no mention is made of this in the statement. Student numbers would presumably fall, although the new 'super IC' would be larger than it is now.
Of course this all came to nothing, here though are STOIC reports from 2 & 9 December 1981.
And on the first edition of News-Break for 1982, Nick Morton the ICU President came into the TV Studio. He spoke with Lawrence Windley and gave his view and opinion on the situation. He also corrected various misunderstandings on these proposals that were currently going around the college and also printed in Felix (the student newspaper). Students kept talking of this as a 'merger', but this was never the proposal, but rather an 'integration' of Q.E.C into Imperial College. Once again, the saved videotape archive of STOIC has rescued the news and voices of Imperial College, which would have otherwise been lost for ever.
Colin Grimshaw 2 December 2020