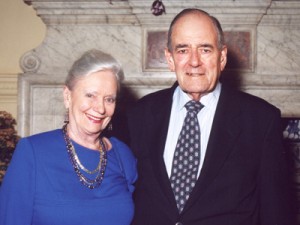 Lord Flowers was appointed Rector of Imperial in 1973 and held the post until 1985.
In 1979 he was made a life peer as Lord Flowers of Queen's Gate. He became Chairman of the Committee of Vice Chancellors and Principals in 1983–85 and Vice Chancellor of the University of London, 1985–90. He was a founder member of the Social Democratic Party.
I shot this video on 17 May 2006. It was used the following year as part of the Imperial College Centenary Celebrations. Small extracts were only ever used at the time, amounting to about 6 minutes in total. This, the full version, runs for 40 minutes and has never been seen before. Both Lord and Lady Flowers speak about their rolls in college life. Anne Barrett from the college archives spoke to them both in the council room at 170 Queen's Gate.
Colin Grimshaw December 2018