I've already released previous posts about the Iranian Embassy siege in 1980, the first post from 2019 is linked here. Those earlier reports were covered by STOIC reporters: Graeme Shaw, Tracy Poole and Paul Johnson.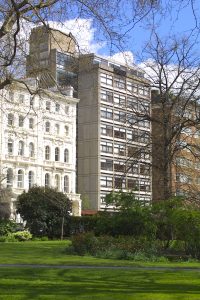 One aspect that was forgotten was that of security for the college, parts of which overlooked the rear of the embassy building. These were the buildings along the north side of Prince's Gardens (photo left) especially Weeks Hall of residence, which I gather has since closed as one of the student halls of residence.
In May 1980, in an edition of STOIC's News-Break, David Ghani spoke with the college's Chief Security Officer, Arthur Dawson about the cooperation with the police and how it affected staff and students.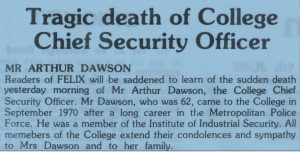 How sad though that only two weeks after this interview Arthur Dawson died suddenly. A report in Felix covered that news (seen over on the right clipping), STOIC paid tribute the following week. After all these years I had completely forgotten that this had happened.
Colin Grimshaw May 2023