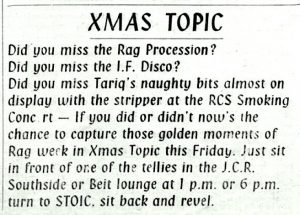 I have just stumbled across a copy of Felix for 4 December 1973. In it I found a promotion for STOIC's weekly news-magazine programme TOPIC. The photo shows that is was promoting the "Golden Moments" of Rag Week in the Christmas edition of the programme on Friday 7 December. I'm sure that Rag Week would have been a few weeks earlier and suspect that this would have been shot on film, that possibly needed external developing, by Kodak perhaps?
I can also tell that this was just around the time when the co-axial cable had been run from the TV Studio all the way through the heating tunnels to the Beit Quad building. Sadly as usual, not a single edition of a TOPIC programme remains, they were all erased. What we do have are some of the 8mm films that were used within the programmes and I am now featuring those when I have scanned the film into digital. In two cases I have an audio tape of the actual soundtrack, as in Christmas and Easter editions.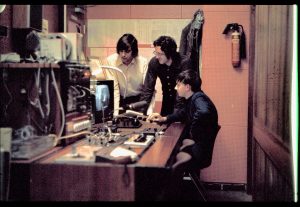 One single item that does remain is an opening sequence, recorded in the original TV Studio on 30 January 1974. I really can't say whether or not this was actually used in any of the programmes. Mark Caldwell, STOIC Chairman is seen, along with Paul Jarvis as Floor-manager. Dave Salmon is on camera 1 which is seen panning around. You can also see the original animated logo caption rotating around that was made by Selwyn Castleden. There's an over the shoulder view of the control room with Steve Bell and Selwyn. There is also a brief glimpse of STOIC's portable "rover' videotape unit as Paul Jarvis walks in front of it. You will also see a great shot of the huge 2 inch Quadraplex videotape recorder that was donated by RCA. The very rare colour photo, taken on 1 May 1974 shows Selwyn and me in the control room looking very hard at a monitor.
Colin Grimshaw June 2021