In 1987, the University of London (of which Imperial was then part of) made a film called 'Not just another university' to promote and showcase itself to a wider audience. The ULAVC (University of London Audio-Visual Centre) was based at 11 Bedford Square and served the needs of any of the schools or colleges that made up the university. As the centre had the skills and facilities to make professional 16mm films it was the natural facility to make this promotional programme. Imperial College is featured in it too, initially with some aerial shots and mind boggling statistics prior to Sir Eric Ash, then Rector, who is seen in the original Rector's Sherfield Building office. ALICE the Imperial College built computer is seen running.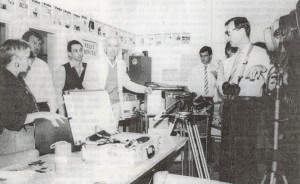 The Chemical Engineering Pilot Plant is featured with Prof Kerschenbaum talking about its uses and operation. Felix, the student newspaper (photo on right during filming) is shown being produced, along with Dave Jones, Editor talking about the weekly publication process. Having spent 12 years as Rector of Imperial College, Lord Brian Flowers then moved on to become Vice-Chancellor of the University of London and he is seen sitting casually on the edge of his desk in his Senate House office. Towards the end of the programme Wye College, as was, is seen during its heyday bustling with students, this must be the only time it was featured on film a unique record.
The film also got a one-off airing in December 1987 on Channel Four, one of the UK's main broadcast TV stations.
Colin Grimshaw July 2015