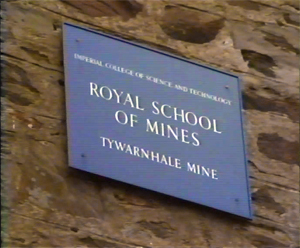 It's funny how things happen by chance. This months entry is a bit like that. I thought it was about time I made use of some of the footage that we have of the college's Tywarnhale mine in Cornwall, when I looked at the label on the tapes I noticed that it was 30 years ago this month, April 1980 that I went down to Cormwall. The mine and surrounding land (purchased in 1909/11 with extra land purchased in 1912) was sold by Imperial in about 2005. Here's a BBC Cornwall web page about the sale dated 15th October 2005. As we couldn't find any real photos of it in the college's archives, the picture of the RSM sign is from one of the videotapes I shot. Here's a brief history of the mine from the "Cornwall Calling" website. Please click on MORE to continue..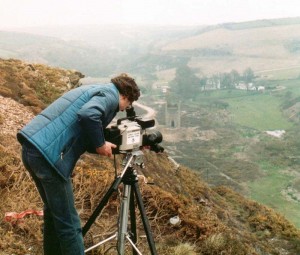 The videos you'll see were all shot about 9 months after we received our new colour portable recording equipment. This all sounds amazing, but the early equipment was not a camcorder like the ones used now. It was a camera connected to a stand-alone videorecorder, and that was a heavy piece of kit and so was the camera. The entire unit ran from what are called sealed lead acid batteries and were the main cause of it all being so heavy (a bit like a car battery but smaller). To make matters worse, these batteries were in both the camera and recorder. If you look at the photo you'll see a small black box at the back of the camera containing one of these batteries.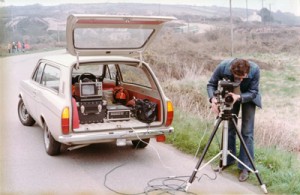 Shooting video underground was a new experience for me and former colleague Stephen Bell who come back to help me out for the few days we were down in Cornwall. We needed to hire battery lighting and create a way to protect the equipment (which of course was brand new) from the various elements we faced: water dripping down, heat and of main concern, humidity. A way was found to wrap equipment in polythene, but allow a way to operate it without unwrapping it! We found dry areas to park the recorder and run out an extension camera cable to where I was located. In most cases the cable ran in deep water from point a to point b and this photo gives an idea of what we took with us and how it connected together.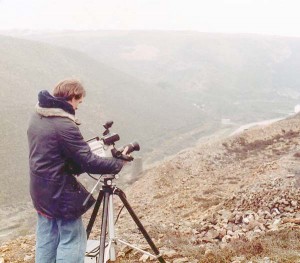 When speaking with Steve about this blog he mentioned that this was the first time he'd ever seen the 'humidity' light illuminate on a videorecorder. Indeed this happened several times when underground and, because of moisture, we had to remove videotape that was stuck to the video head drum. Needless to say, these tapes were then useless, so we lost a good few recordings. It's also rather difficult trying to take the lid off of a video recorder when you're underground and trying to see what you're doing with a miner's lamp on your helmet being the only source of light! Jumping forward to this year, 2010, it's been a struggle with some of the U-matic tapes making them playback correctly. Time has not been too kind to them and all the problems underground didn't help (moisture). But, they're all now backed-up onto DVD from where these clips have now come.
This first video sequence is taken from the car being driven by Steve. I'm hanging out of the car window with a very large and heavy camera. You'll also notice that this, and all other shots, will look a bit 'soft' and almost ghostly. This is because our very early colour camera had what is called a Vidicon tube inside it. These camera tubes required large amounts of light to get good pictures. As you'll see, the weather was not brilliant and was very misty. None of this helped the situation. Thus the shots are rubbish compared to material shot these days. This video shows the original college buildings along the entire site.
This next video shows: students walking along the road along side the mine; Dr Thomas explaining how to use various instruments; a student entering the mine via ladder down the vertical shaft and two sequences showing students working underground. Now, it's worth remembering that Steve and I had to enter via this same entrance carrying all of our equipment. We did have help, but camera, recorder, tripod, lights and spare batteries & tapes are difficult to carry when going down a vertical ladder! And, of course we were kitted out with the same outfits with: boot; helmet and safety lights etc. We all came out at the end, more than a bit dirty and very wet indeed.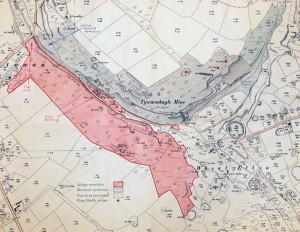 The original 1911 purchase document says that the purchase was to "…enable the Professors and Students of the college , including the Royal School of Mines, to use the levels, above adit level, of the South Towan Mine in the manor of Tywarnhaile…"  There are two interesting things I've spotted in searching for this information, one is the spelling of Tywarnhale. I've found three versions: Tywarnhale, Tywarnhaile and Tywarnhayle. But I've gone with the version as seen in the photo of the sign that was outside the main building. Also, in the original document it's referred to as South Towan Mine not Tywarnhale. If you know any more on this matter we'd love to know so we can get the history correct.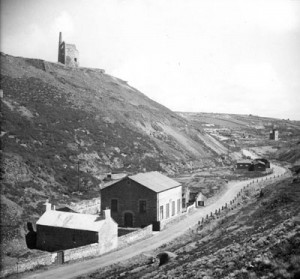 There are very few photos of the mine in the college archive, so, if you have any that you would like to donate or would allow to be copied, then Anne Barrett, of the College Archives, would love to hear from you. And, as always it's thanks to her for sourcing the material that we do have available. It's very lucky that the video footage was shot and that we have at least some record of our former students working in it. If YOU are one of those shown in the videos then please do comment, we'd love to hear from you. It's been interesting to run through all these tapes again after these 30 years and remembering all the major technical issues we had to overcome. But not too pleasant remembering how wet it was underground and how the weather was typically UK that week. These recordings are a perfect example of what archiving is all about, remembering our past and our history. The fact that this 'outpost' was part of Imperial College from 1911 until about 2005 is something that most people are simply unaware of.
Oh and one last thought….I thought it was an old Tin mine, but all other references seem to say that it was Copper…..30 years have certainly confused me!
Colin Grimshaw April 2010 (updated 2016)
In 2016 Michael Hulmes added this useful comment to the blog post:
The guy swinging on the rope, in white overalls and blue undershirt in the underground video is Geoff Perry. I suspect his colleague with his back to the camera is Paul Dayton-Lewis. The red haired guy in the video being instructed by Dr Thomas is Philip Sharman. All were in the Mining Engineering class which spent six weeks at Tywarnhale through easter 1980