Sir Patrick Linstead (1902–66) was an organic chemist educated at Imperial College, whose work included the discovery of Phthalocyanine dyes.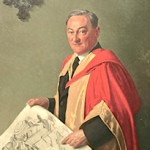 Linstead's period as Rector (1954-1966) encompassed a time of great change. Much of the South Kensington campus was completely rebuilt during the 1950s and in the early 1960s the Empire was giving way to the new Commonwealth. This caused him to consider changing Imperial's name, but he was implored not to by former students. In 1962, he foresaw Imperial's eventual departure from the University of London in July 2007, writing that Imperial's 'importance in the educational scene is not reflected in the practices and procedures of the university'. He died in 1966 while still in office as Rector. What we have, fortunately, are some audio recordings made during his time at Imperial College.
First is his speech from the Mansion House "Jubilee" dinner, celebrating the 50th Anniversary of Imperial College in 1957.
Second he is speaking during the opening of the Roderic Hill Building in the presence of The Queen Mother in 1957.
Third we have him speaking on BBC radio in February 1958, just as the Jubilee celebrations were ending. He talks about the expansion of the college which had already started at the time he was speaking. The colour photo above, which is of his official painting, depicts him holding the plans for the expansion of the college.
Mansion House 1957
Roderick Hill Building Opening 1957
BBC Radio 1958
Colin Grimshaw February 2013