Back in January I posted a blog with a special Christmas message from the then Rector of Imperial College, Lord Flowers. I said that this was the first time we had not only recorded a Rector in colour, but also the first time that a special message for Christmas had been recorded. I was wrong! I have now discovered a recording that was made the previous December 1979. I had forgotten that I helped STOIC with a colour recording made in his office in the Sherfield Building. At the end of the session he also recorded this special message. I have found this (and what follows next) on STOIC's Christmas Edition of News-Break, their weekly news programme recorded on 12 December 1979 and shown the following day.
The full interview recorded prior to this message is still currently missing, although I think I might have an extract from it on another tape, but more on that at a later time.
What I really had forgotten about was the (currently!) only known recording with Lady Flowers on her own, this was also recorded in the same month. Again, the first time that she had appeared in colour. This was recorded in the kitchen at the Rector's house at 170 Queens Gate. STOIC's Tracy Poole was asking the questions although, as you'll see, Lady Flowers was a little shy, so Tracy struggled a little.
I have corrected the colour of both of these recordings to the best setting that I can. As mentioned in other blogs, this was our first Sony colour camera and its colour rendering what not always perfect. Even with modern digital editing, correcting these errors is still difficult. And since I discovered this recording of Lady Flowers, another one has been unearthed. And once again it's in the kitchen at 170 Queens Gate, but this time it's making pancakes. More on that in February, but a preview image from the video is seen below.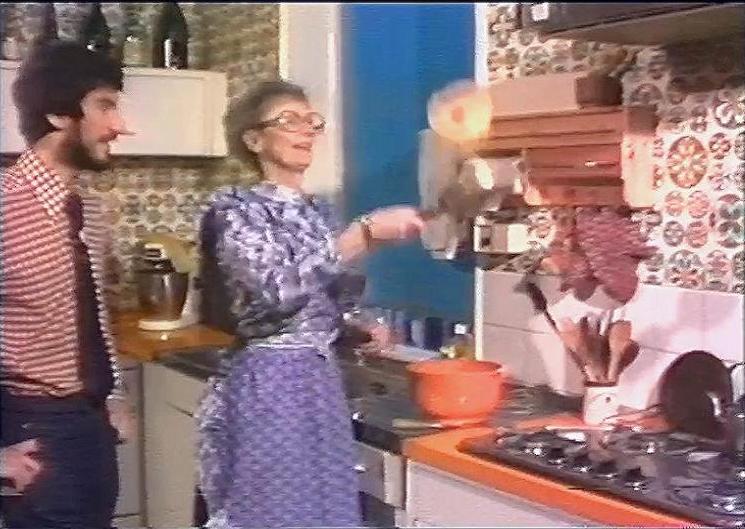 Colin Grimshaw December 2021