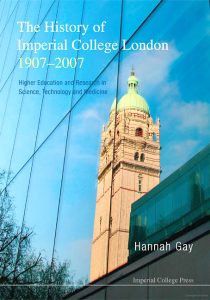 2007 was the Centenary Year for Imperial College. One of the most important events during that year was the launch of the history of the college written by Dr Hannah Gay and published by Imperial College Press. The launch was held at 170 Queens Gate and we covered the event and spoke to various people including Dr Hannah Gay herself and also Sir Richard Sykes who was, at the time, the Rector of the college.
The book is a vast catalogue of Imperial's past and I refer to it regularly when I am writing these blog posts. That's not to say that the book contains everything and indeed sometimes, even I, resort to Google to find what I'm looking for.
When we made this video we were still called Media Services (ah, those were the days!) and producing videos for anyone in college, not just Communications who we were soon to come under the umbrella of. It was soon after this that we stopped being a service that was available to anyone else in college. A sad moment to be honest and a huge disadvantage to other members of Imperial who wanted to have a video made professionally.
Colin Grimshaw October 2021