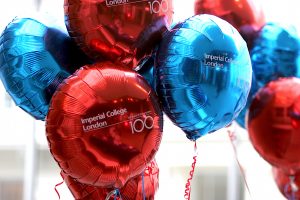 Today marks ten years since the Imperial College Centenary Ceremony. If you click on the link in the previous sentence you can see the special page that was created with many memories contributed by past & present staff & students. See if you can spot my contribution too. But can you really believe it's ten years since all the fun and games that marked the centenary of Imperial College from 1907-2007? The overall one-year celebration period was entitled "100 years of living science". What you will see below are videos from that celebration period. However, in a previous blog I included the celebrations for Imperial's 50th Anniversary Jubilee in 1957.
Things kicked off in the Great Hall on 30th January 2007 with the Rector Sir Richard Sykes giving his centenary launch lecture.
The highlight of the year was on 9th July 2007 when HM Queen attended the centenary ceremony in the college main entrance. We covered the event with three cameras running on wireless links to avoid any cables. This also enabled us to get shots from the pavement when Her Majesty, along with HRH Prince Philip, arrived and departed, in the royal car. You'll see the latter at the end of the video. The whole ceremony was also relayed via a web-stream around the World, one of the earliest we had done. One of the cameramen got a lovely shot when the Queen was signing the visitors book just before her departure. Like many of these events you can plan well ahead, but at the time it happens you've not really had a rehearsal. As I always say about this type of event, you can't ask the Queen to do a run-through and camera rehearsal for you! So, it's nice when you can get some great unexpected shots as you'll see in the video. Please note that unlike BBC broadcasts of such events, there is no added commentary.
A few days after the centenary ceremony a college-wide/campuses-wide staff party was held. On 11th July 2007 a party was held like nothing Imperial had ever seen, or has seen since for that matter. We covered that party during the entire time, as you'll see in the video below, which was presented by Darren Queralt.
Because many people, including us, were actually working during the staff party, another event was put on at the end of the year in December. It was the Beach Party and here I am with my colleague Martin Sayers and Rector Sir Richard Sykes all trying to look like it was Summer, even though it wasn't. And hey, I still had a video camera with me it seems! I must look for that tape…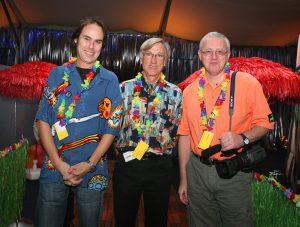 Colin Grimshaw 9 July 2017