A sad reminder of how we are slowly losing access to audio visual materials is the 1969 royal opening of what was originally called College Block, but is now known as Sherfield Building.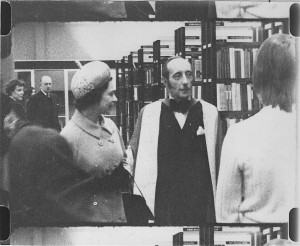 The event was covered on silent 16mm film. Once it was edited, we added a sound track to the film along with a commentary. Sadly the sound is on an unusual magnetic track format along the edge of the film and I've not succeeded in finding a facility to make a transfer into digital form (and at a cost we might agree on).
The one clip I have is from an early transfer I made myself onto videotape, but has since itself now disappeared. This clip was incorporated in a compilation video I made for the college archives, so only exists because of that tape. So, here is all we currently have of the full 16mm film, unless YOU know a way that we can get it transferred, preferably at no cost! The photo was taken many years ago from part of the actual 16mm film.
Colin Grimshaw March 2016