28 years ago today on July 8th 1985 a project between Imperial College and the Honda Automobile Company was celebrated with the official opening of the new Honda Wind Tunnel in the Department of Aeronautics.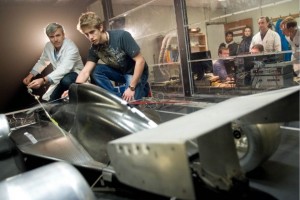 Earlier in that decade the Honda company had approached the college and offered to pay the costs of the construction of a large wind tunnel. It transpires that Honda were trailing behind competitors in their car design and needed help. They offered to pay the construction costs in return for the testing of car models and the training of staff in wind tunnel technology. Professor Peter Bearman from Imperial College oversaw the design and construction, he can be seen towards the end of the video. Former Rector the late Lord Brian Flowers makes the initial presentation, followed by the then head of the department, Dr Glyn Davies. The design and construction created, at the time, one of the world's largest wind tunnels. The contract with Imperial College was also one of the biggest between a Japanese automobile company and an academic institution.
The tunnel was opened by Mr Fujio Ishikawa, Senior Managing Director of the Honda Motor Company. You can read a full page article about the wind tunnel in the Imperial College student newspaper Felix dated 17 May 1985, scroll down to page 6 on the PDF.
Colin Grimshaw July 2013