Predating the 1993 Undergraduate and Postgraduate Videos, seen in a previous blog, Lady Clare Ash (the wife of former Rector Sir Eric Ash) made a one-off video called Snapshots.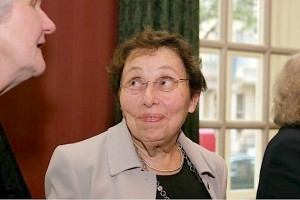 It was made to showcase just some of the then current research taking place at Imperial. I seem to recall that Eric Ash was about to go on an overseas trip to several countries, including India and that this was made to accompany his presentations. You'll notice the emphasis on past Imperial Nobel Prize winners at the start of the video and a rather slow list of Imperial's Fellows of the Royal Society towards the end.
Several areas of research from around the college were featured. Two Nobel Prize winners included were the late Lord George Porter (1920-2002) and the late Sir Geoffrey Wilkinson (1921-1996), both are seen working in their respective labs. Bob Schroter (featured in a previous blog) talks about his work with Camels; Steve Ley, formerly from Chemistry, discusses pest control, whilst Howard Thomas from St Mary's talks about Hepatitis Vaccine.
Towards the end, we featured some of the first 'vox pops' in one of our videos, where current students talk about their experiences and views of being at Imperial College. You will see the first aerial footage of Imperial used at the start of the video.  This was provided to us by the (then) University of London Audio Visual Centre and was shot by them as part of a 16mm film they made for Channel Four Television. The video concludes with the former Rector himself, Sir Eric Ash, speaking direct to the audience with his views on where Imperial is today and what his vision is for Imperial tomorrow. This was shot in the old Rectors office up in the Sherfield Building.
Colin Grimshaw – February 2014