In 1982 the Imperial College Students' Union had the opportunity to make a TV programme in conjunction with the BBC's Community Programme Unit. All services, facilities and camera crew were made available to them and for them to have full editorial control on the final film produced.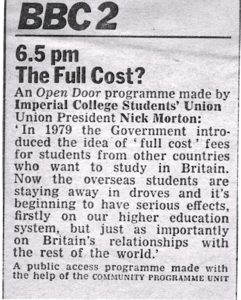 The clipping is from the Radio Times from April 1982. It outlines the content as " In 1979 the Government introduced the idea of ' full cost' fees for students from other countries who want to study in Britain. Now the overseas students are staying away in droves and it's beginning to have serious effects, firstly on our higher education system, but just as importantly on Britain's relationships with the rest of the world." I never heard any feedback on the final programme and whether or not there was any government reaction to it.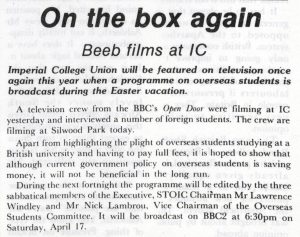 In the programme were Lord Flowers then Rector, Prof Roger Perry, Professor James Whitelaw and Dr Adrian Evans along with a host of Post Graduate students. There are some, but only a few, shots of campus and undergrads as well as a sequence shot at Silwood Park. Strangely though, Union President Nick Morton, who was even credited in Radio Times, did not actually appear in the film! There was a front page mention of the film and the date of transmission in Felix dated March 19th 1982 (see above). I think that the announcement of the transmission date was so early, because this was the last-but-one edition of Felix before term ended for Easter. Sadly, I've never seen any photos of the production being shot or edited. I'm surprised that Felix didn't take any whilst the film crew were on campus!
Colin Grimshaw October 2023