Well here we are in 2019 and the 10th year of the Video Archive Blog. The first real blog of the year is coming up next and that will be a bigger than usual read too.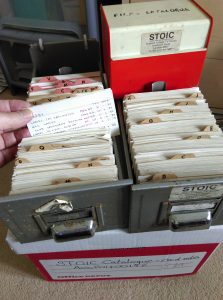 I'm still finding interesting video gems to post and there are masses of new videotapes to be viewed and digitised during 2019. I just have to get to them and sort them out. Assisting me now is the original card index files started by STOIC the student TV service (right). Amazingly, their original archive has more 'college' events than the TV Studio's own archive. STOIC covered just about anything and anywhere, to fill the news programmes. There are interviews with college personnel and administration that I never had the opportunity to record myself. They also captured and covered more college events than I did, so these are true archive gems.
By now you're thinking 'why didn't the TV Studio cover these things rather than the students?". Well, the answer is simple, I wasn't allowed to. We had a remit to charge for any work we did in the college TV studio, so unless someone was paying me, I couldn't do the work! It's sad to know that the only coverage of some important and unique college events are only on STOIC tapes. So, fortunately those tapes are now held safely and, as I mentioned previously, I also have access to the two-draw card index that I'm now slowly scanning into digital.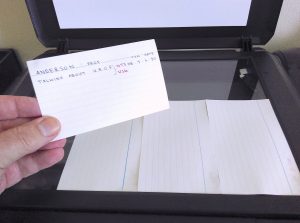 Scanning the cards is somewhat time consuming as there is no easy way to be able to autoscan them. I'm scanning them in batches of four on a flatbed scanner and creating continuous PDF files of each batch of A through to Z. I've got as far as "N" at this time! If you click on the photo that I took (left) you can see that even this particular card I'm holding shows an interesting 1980 interview with Prof Anderson about the UROP project. I seem to recall that it stood for Undergraduate Research OPportunities. There are no other such interviews, so this is also unique. How long before you'll get to see it remains unknown, but keep watching as I go into year TEN…
Colin Grimshaw January 2019