There are a few previous blogs about Live-Net, two in 2013 and one in 2018. But I've not really talked about where the system eventually was able to link to. Towards the end of the networks life it had been extended (42Km) all the way down to Royal Holloway in Surrey and eventually a little further (6Km) down the road to the Imperial College field station at Silwood Park. You can click on the Live-Net map over on the right to view it bigger.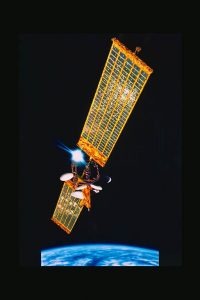 The reason for the extension to Silwood Park was primarily to enable the temporary installation of an ESA Satellite uplink station. The Olympus satellite was, by this time, (1989 launched) then operational. To cut a very long story short, the Silwood Park uplink enabled any of the connections within Live-Net to get TV pictures across Europe. In October 1990 we did just that, for a very technically complicated programme involving the French Association of Veterinary Surgeons Annual Conference being held in Poitiers, France. The link from France was provided by France Telecom. The feed was sent via normal ground connections to the London BT Post Office Tower. As you can see from the Live-Net map, we also had a feed to and from the BT Tower. That bit was easy…
Then came the complicated bit. They wanted London participation from various groups including the UK's chief veterinary officer to allow a discussion on the then major topic of BSE, otherwise known then as Mad Cow Disease. So the concept was that the French feed would arrive at the Imperial College TV Studio mixer and that at the appropriate time our studio guests would take over and contribute. However, this is where it got complicated. They wanted a two-way discussion to happen, so my audio had to feed all the way back to France! It turned into a bit of a 'Eurovision Song Contest' in the end. But it still didn't get any easier, because we had to have two-way simultaneous translation French to English and then English to French. For this a double sound booth with two translators was installed at the rear of the studio. We all wore earphones to hear what was being said. In France they would occasionally insert videos and graphics which was no problem for me. However, London wanted to do this too, so it got even more involved. We were never sure just when the French participants would want to link to us, so we were always poised to switch feeds and start the sound translations. The first video is when we were called upon to come into action.
Even more involved was that they wanted me to provided an edited version of my promotional video that I'd made about Live-Net and get a summarised commentary recorded in French and this is what you can see next.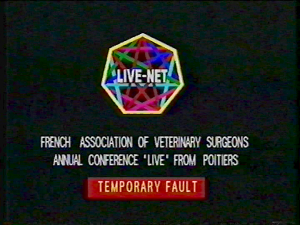 Of course I had to expect potential problems and I didn't take any chances in case something happened. And it did! The incoming vision feed from France Telecom/BT just disappeared during one of the London participation segments and I was left with a blank screen. But I did have a stand by caption ready for such a situation. Luckily the vision feed reappeared and we were back to normal again.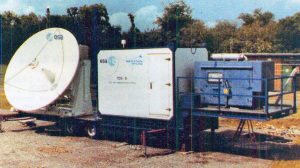 My end result vision and sound feeds were sent back to Live-Net and thus onward down to Silwood Park and via the ESA uplink station to Europe (seen left) on the Olympus Satellite. I was also watching our feed coming back to me from the satellite so I could see if we were actually transmitting or not. And that was the other problem. You can't just uplink to a satellite without a specified start and end time because there are other people wanting to do something similar. So we couldn't start until the correct time, but equally we had to finish at the right time too. I don't think our colleagues in France appreciated this because they didn't realise that time was running out. I had a permanent open phone link with them and was updating them on timings. When the end was approaching I expected them to sum-up and run end credits, but nothing was happening. I ended up yelling at them to "run the end credits" and rather abruptly you'll see their end video appear on screen and then run, taking them all by surprise, with various words in French about the loss of satellite time and goodbye. A few seconds later I saw our feed disappear from the Olympus satellite so we only just made it in time. THE most complicated event I have ever done, with me alone doing live vision and sound mixing along with inserting graphics, videotape and talking on the phone, whilst my colleague operated cameras and then broadcasting to the whole of Europe. Phew!
Colin Grimshaw January 2019