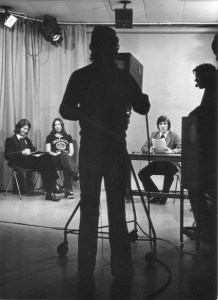 40 years ago, during the summer of 1979, the TV Studio slipped into colour with the purchase of a single colour camera, portable recorder and edit suite. Before that time everything we made was obviously in black and white and that included the output of the student television service STOIC. They had, at times, been ahead of the college TV studio with some technology. They were first to get a Sony portable videorecorder and associated camera. This allowed them to record items outside of the confines of the studio. When we wanted to do the same we had to move a large videorecorder and take a camera with us on a trolley.
Clearly we had to make a move to upgrade to colour and in the process replace the Ampex One Inch videotape format we'd been using for many years. We needed both colour and also the ability to electronically edit. The U-matic system from Sony was what we selected and the equipment arrived before summer 1979. During the college vacation period we made our first colour production for the Life Science Library. By the start of the autumn term in 1979 we had re-equipped the studio to work only on the U-matic system, but because we still had only the one colour camera, the main studio stayed in black and white (for some while).
A short while after we had received the colour camera, STOIC was clearly interested in also moving away from black and white. But until we moved the entire studio into colour STOIC's type of programmes were not possible on a single colour camera. However, it was possible to include the occasional 'single camera' colour item within a programme. So, just before term ended for the summer of 1979 I consented to the inclusion of a colour item within one of their news programmes. James Miller, a regular on STOIC, had expressed a keen interest to be the first to be seen in colour and I agreed. We thought to do this with a fanfare. So, James linked from an item he'd pre-recorded in black and white on their own portable videorecorder, to him sitting in the studio, also in black and white. At an agreed moment I turn the system switch on the recorder to colour and James's wish came true. I re-discovered this 40 year old item during the current digitising of STOIC tapes.
Colin Grimshaw August 2019